Abstract: When the AMD Athlon processor was first released, back in the days of the AMD Irongate 751 chipset, a lot of people waited for ABIT to release...
79% Rating:
Home > Reviews > Motherboards > ABIT KA7
KA7 Performance
We tested the KA7 utilizing three benchmarks. First,we used SiSoft 2000 Pro to get some synthetic numbers, then we used Ziff Davis Winstone Content Creation 2000 to get some real world windows performance numbers, and last but not least, we used the very popular Quake III for some overall real world gaming performance. We are going to show two categories for every benchmark we performed. One for non-tweaked memory timings, and one for tweaked memory timings. Keep in mind, your results will vary greatly depending on the quality of RAM that you have. Our RAM would be considered of average quality, and it allowed for almost every single memory settings to be tweaked to fastest. Our test system was configured with the latest VIA AGP miniport drivers 4.03, and the latest BUSmaster and INF drivers for Windows 98. Here's our test system hardware configuration:

Processor: AMD Athlon 600 @ 733 MHz
Motherboard: ABIT KA7 Slot-A
Memory: 128 Megs PC-133 SDRAM
Video Card: LeadTek WinFast GeForce 2 GTS
Operating System: Microsoft Windows 98 SE

WCPUID SnapShot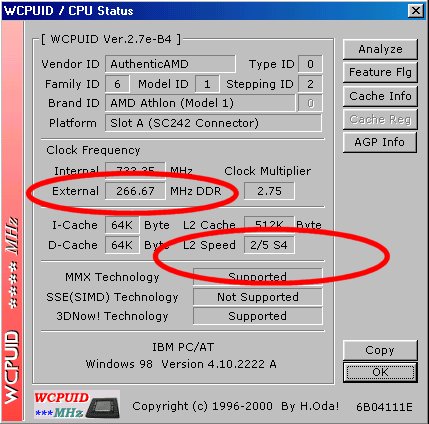 If you take a close look at the
WCPUID
snapshot, you will see how the Athlon effective FSB has been increased from the normal 200 MHz to a whopping 266 MHz. Also, take a look at L2 Cache speed. You can see how we adjusted it from it's default 1/2 of the CPU core speed, to 2/5 of the CPU core speed for better stability. Now, lets take a look at the numbers:
Sandra 2000 Pro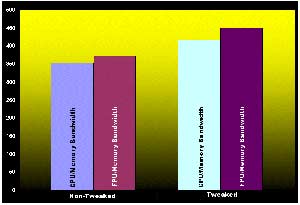 ZF Content Creation 2000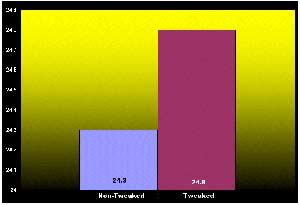 Quake III Arena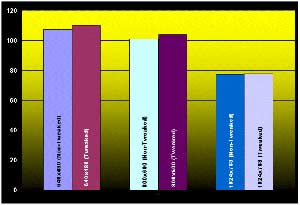 As you can see from the above numbers, as far as Sandra is concerned, tweaking your memory timings yields a big performance difference. Of course, synthetic benchmarks such as Sandra don't really tell the whole story. If you look at the Content Creation 2000 and Quake III benchmarks you will see that even though there is a difference, it's not as pronounced as the Sandra difference. It's interesting to note that under the Quake III numbers, at the 1024x768 resolution the difference was only .1 frames between the tweaked and the non-tweaked settings.
So, it's obviously beneficial tweaking out your memory settings, although it's not as beneficial as certain people may have suggested in the past. Some may say, it's not even worth it. That's definitely a call that each individual is going to have to make.
SEARCH PCSTATS

---

Use the power of Google to search all of PCSTATS and the PCSTATS Forums. Tell us what you think of this new feature - FEEDBACK?