From the print control panel there are a few features which make this laser printer all the more useful.
N-up Printing is a setting that enables you to print multiple pages to one side of paper. It's possible with the ML-4600 to print 2,4,6,9 or 16 mini-renditions of full pages to one side of paper. It does get difficult to read text on the 16-page to one compression, but for proofing the general layout of a presentation it can be quite handy, and save a significant amount of paper and toner then would otherwise be used.
For oddly sized documents the fit to page feature can be used to bring them to full page dimensions, regardless of the digital document size.
Although it would require a lot extra leg work afterwards, not to mention a healthy supply of glue or tape, poster printing can also be done with the ML-4600. Poster printing is essentially the exact opposite of n-up printing. Instead of cramming 16 pages onto on, it spreads one page over 4, 9, or 16 sheets.
Lastly there is watermarking. Watermarking allows you to print diagonally overtop of an existing page in large gray letters. There are several predefined watermarks included, like "Confidential" or "Draft", and custom ones can also be created.
Memory Expansion
While for many of us 4MB of print memory is sufficient, that may not be the case for everyone. PDF's can often be many megabytes in size, and can take a long time to print if the printer memory is acting as a bottle neck. To alleviate this, the ML-4600 comes with one empty 72-pin SIMM expansion slot.
The memory slot is located on the base of the computer and is easy to gain access to. It's important to remove the toner cartridge before tipping over the printer however. A screw driver is required to remove the protective plate. The memory can only be expanded with increments of up to a maximum of 64MB; for a total maximum system memory of 68MB.

Coincidentally, I had an old 4MB SIMM from an ancient 486 computer that was perfect for a spontaneous memory upgrade. A little note to those of you tossing your old computers in the garbage these days; computers like 386's, 486's and some Pentiums used SIMM memory, which is just the type of RAM you'll need for this, and many other printers. Save yourself a few dollars and pull out the memory before tossing that obsolete computer.

In case you've forgotten, 72-pin SIMM memory looks like this. SIMM can range in size from 4MB like this stick, up to 64MB.
High Temp Process
Because of the high operating temperatures involved in laser printers it is always a good idea to let them cool down before removing a used toner cartridge. This particular model uses a small cooling fan positioned on the right hand side of the printer to expel warm air, and cool components.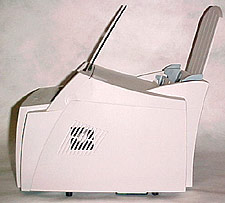 The cooling system works by pulling in outside air from a vent on the opposite side of the printers' frame. Since there is no filter behind the air intake vent their may be problems with dust accumulation over time, especially if the printer is used in an dusty area. Samsung does include instructions on how to clean the inside of the printer should it ever require a cleaning.