Heatsink Tests
I got to say a great big thanks to the Cooler Guys for the demo units on the Alpha, and GlobalWin stock. Awesome guys from Seattle, give em a look or a call if these or others are what you are looking for. They have a lot of cooling gear for all purposes and applications

CoolerMaster Offerings

A young company compared to most is Cooler Master, but that doesn't mean jack when it comes to performance. The first up from them is the DP5-5G51, and for a moderately sized unit it actually performs quite well. It hung in there with all the tests and came out shining. Only drawback I could find is the mounting clip, awful stiff and if not careful those small socket lugs could just come right off when trying to mount or remove this guy. To it's benefit is a killer look, nice fan mount/shroud, and great performance for a smaller unit.




The other Cooler Master offering received by us was the DP5-5F51. Smaller in size, same clean look, little less on performance, yet still a good option when space is a consideration. For a small unit, it still does a decent job. Well worth a look at if you aren't a psycho cooler freak, and want that added cooling insurance for your system.

They just totally revamped their site, and their packaging is just as eye-catching. Well worth a look see for good gear at a great price. These guys are friendly, and willing to deal with me no less, so most of you should be able to get the info and the product you need as well as some great service. Thanks a lot go to Cooler Master as well for the gear received.

Pretty amazing considering the outcome was damn close across the board. I kept the room temp between 23.2-23.4 Celsius during the use of each heatsink to keep things on the up and up. All tests were conducted using Motherboard Monitor 4.12, in the same system of the following specifications:

-Biostar Mid-Tower case with 6 - 80mm case fans and a 350watt PSU supplied by PC Power & Cooling

-Celeron 366a @ 567 (103x5.5) on an Aopen AX6BC Pro Gold with L2 cache latency of 1

-256mb PC100 CAS2 SDRAM

-3.2 and 6.4gb Quantum Fireball UDMA33 hard disks

-Toshiba 6x DVD/ 32x CDROM

-LS-120 Floppy drive

-Viper V550 with Socket 7 hs/fan combo mounted to it Intel 10/100 nic

-Aztech 56k PCI modem

-SB Live 128 PCI sound

It may not be the hottest setup, but it kicks ass around here. The following software was running at all times during assessment on Windows 98 for a period of 30 minutes; Seti, Seti Monitor, Winproxy, Motherboard Monitor, Surf Express Deluxe, Photo Impact. The highest temperature is what is shown. With all that out of the way, here is the comparison chart.....Remember lower IS better: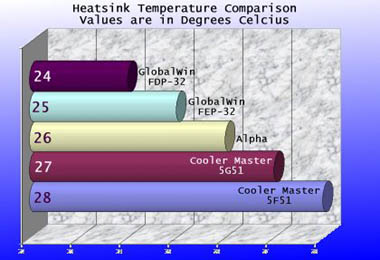 Conclusion

All in all, not a bad group of coolers. Even with their smaller size heatsinks and fans, the Cooler Master units stood the ground with the rest of them. I would also like to mention not a single one of these units made me change my OC'd settings of 567mhz. That is a great plus, as like some of you I hate to have to run slower than I know is possible. While this shows size does matter, we also see that it makes a big difference with effective case cooling. I believe that in a bare stock case things would have been hotter of course and possibly a little more gap in the temps. GlobalWin's big FDP32 stole the contest coming in a "cool" 4 deg. Celsius below the hottest temp. For the money they are all a good deal, and I would use any one of them in a box without question. Again, I would like to say thanks to both companies for sending the demo units, check out their sites and gear. There is sure to be something at each you can use. Take it easy, and happy cooling to all.

Syndicated from http://www.deeztech.com
SEARCH PCSTATS

---

Use the power of Google to search all of PCSTATS and the PCSTATS Forums. Tell us what you think of this new feature - FEEDBACK?