TFT displays are always best left at their maximum resolution, but should the need arise, or the desire to change down to a lower resolution the effects of dithering can vary a lot between manufacturers. The Hitachi faired very well showing even dithering (as opposed to one sided where part of letter disappears) at the two other resolutions we tested it on.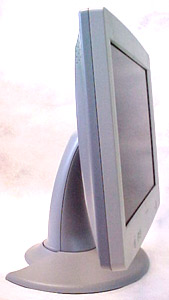 It's difficult to tell how much of an impact the 350:1 contrast ratio has on the quality of the display, but we can say that it is indeed very sharp and very bright. Taking a notebook screen for comparison (the differences are very obvious between the two) the whites on the Hitachi are bright and consistent, and the colours vibrant and smooth.
The 0.297mm dot pitch helps ensure that curved lines are not overly jagged, and the 200cd/m2 brightness value makes for an easy to read and clear display.
Pure black can often be difficult to master, but the CML151XW showed its stuff in this area full force. Most TFT displays range in brightness from around 180cd/m? to 250cd/m?. Some times the response time of the display (how fast a pixel can change from one colour to another) is relatively slow. The effect during fast motion is one of blurring, or jolting. The Nokia monitor test program has a component designed to demonstrate this potential shortcoming rather well. We prefer however to use a very simple test on the display to see how it reacts to rapid changes.
By taking a large section of text and rapidly moving it up and down the screen it is possible to get a feel for how quickly the display can react to rapid changes. If the display is slow, the screen will jerk about excessively. As well, if the screen cannot respond quickly enough to the rapid changes from black to white as the text is moved up or down there will usually be some streaking or change of colour.

We were quite pleased to see none of these effects when we tested out the Hitachi display, and say quite certainly that the picture quality is first rate. The only aspect of this display we were not completely happy with were the control buttons on the front bezel. It became a bit tiresome having to enter into each selection using the one "menu" key rather than it selecting automatically. Granted it is a small thing, but it did stand out. Also, rather than engaging brightness / contrast as you might expect the two "arrow" keys on the bezel only bring you into the auto configuration screen.
Other than that, the force required to adjust the screen up or down is not too much, and the screen can be rotated horizontally with just one hand for quick adjustments. As with all flat panel displays, if you can afford the price the move is well worth it - and the CML151XW won't disappoint.