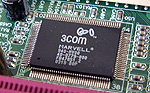 Being that the Athlon64 3200+ is ideally suited for high end workstations, it is not surprising that the Epox 8HDA3+ includes two networks cards. One connection is a standard 3Com Gigabit LAN, and the other based on the VT8237 southbridge supports 10/100 Ethernet.
I suppose the 8HDA3+ could also be targeting consumers looking to build a mid-range server also. For those of you who enjoy tweaking your system, the popular Port 80 diagnostics card makes itself shown in true Epox tradition.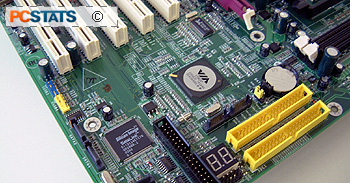 The Port 80 card isn't really a card, but that doesn't really matter. Derived from a troubleshooting card that slides into a PCI slot, Epox have taken the important bits and mounted them directly onto the motherboard itself.
A small alphanumeric display displays a series of codes that indicate the functional status of the system. If for example there is a problem with the 8HDA3+ not booting after fresh set of memory modules have been installed, we can refer to the code displayed on the port 80 diagnostic display for an idea of what might be wrong. In the back of the manual is a full listing of what the codes represent, and that can be immensely helpful when troubleshooting a compatibility problem. To be quite frank, if you spend a lot of time tweaking your systems to get the most out of them, the port 80 display can save you countless hours diagnosing problems if you take things too far ;-).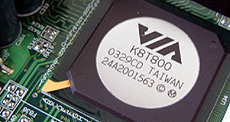 Epox use a small passive heatsink on the VIA K8T800 Northbridge which was attached with thermal tape. As you can guess, since the chipset is not flat the heatsink was making very little direct contact. Epox should consider using some sort of TIM or thermal paste and have the heatsink attached via mounting holes which can help keep BGA coolers in place over time.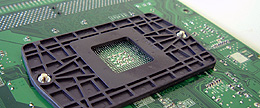 The retention mechanism for the Athlon64 heatsink is very well designed, and features the standard support plate at the back this ensures that your board does not warp due to the forces applied.
What could be improved?
Probably my biggest qualm with the Epox 8HDA3+ is the inability to change the memory timings in the BIOS. Memory timing adjustments can be a very significant aspect when it comes to tweaking the performance to the max, and so without those options the 8HDA3+ just relies on DIMM SPD timings.
Because the Corsair XMS3500 CAS2 memory modules we use for testing have a 2-3-3-6 SPD timing the benchmark results from the 8HDA3+ will be lower than the other two K8T800 motherboards that we have tested. Please bear that in mind as you look them over on the following pages.