Unreal Tournament 2003

Source: Epic
Unreal Tournament 2003 is the sequel to 1999's multiple 'Game of the Year' award winner. It uses the very latest Unreal Engine technology - where graphics, sound and game play are taken beyond the bleeding edge. Unreal Tournament 2003 employs the use of Vertex as well as Pixel Shaders and it's recommended that you use a DirectX 8 videocard to get the most out of the game.
UT2003 Demo 640x480 Flyby
Video Card
FPS
Ranking
1.

A64 3200+/MSI K8T Neo (200/400)

299.5
2.
A64 3200+/Albatron K8T800 (200/400)
300.96
3.
A64 3200+/Epox 8HDA3+ (200/400)
286.38
4.
A64 3200+/Epox 8HDA3+ (230/382)
321.03
UT2003 Demo 640x460 Botmatch
Video Card
FPS
Ranking
1.

A64 3200+/MSI K8T Neo (200/400)

94.07
2.
A64 3200+/Albatron K8T800 (200/400)
94.87
3.
A64 3200+/Epox 8HDA3+ (200/400)
90.21
4.
A64 3200+/Epox 8HDA3+ (230/382)
101.26
We've seen this picture already. If Epox had only allowed the end user to adjust memory timings the board's performance would be on par with the other K8T800 motherboards.
Epox's first K8 Workstation motherboard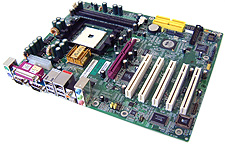 Something to keep in mind when viewing the benchmarks is that performance is relative, and I want to make it clear to everyone, the Athlon64 and accompanying hardware is extremely fast! Even though the Epox 8HDA3+ did come in slightly behind the other reference motherboards it was only 5-8% slower than the other boards in 3D applications, and mush less than that in 2D apps. Compare those results to those from an Intel Pentium 4 3.2GHz and it would be clear that the AMD Athlon64 is the fastest processor between the two.
The Epox 8HDA3+ is clearly a very competent workstation motherboard. It features the performance and stability we've come to expect from Epox boards, and should server as very good platform for the socket 754 Athlon64 processor. In its current state, the board lacks a BIOS which gives sufficient control over to the hands of the tweaking enthusiast, but I'd be very surprised if this issue wasn't addressed in a future BIOS revision.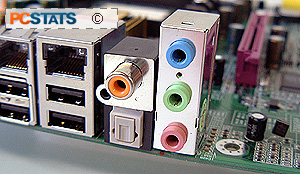 VIA currently produce the best Athlon64 core logic. Ali is way off in the rear with a lack of tangible features, and the nForce3, while extremely feature packed and competent, can't quite keep up to the K8T800 because of slightly slower hypertransport links.

The K8T800 is very fast and does not seem to be plagued by compatibility problems that most first generation VIA chipsets have suffered. Memory bandwidth and performance has traditionally been VIA's weak point but with the memory controller built into the processor that's one less thing for VIA to worry about. Additionally, a lot of work has gone into the K8T800 to ensure it operates with full 16-bit, 800MHz Hypertransport links, both upstream and down.

The Epox 8HDA3+ is a fairly well equipped motherboard with 5.1 channel audio, dual Ethernet ports (GbE LAN and 10/100 LAN), Serial ATA/Serial ATA RAID, ATA133 IDE, and of course the extremely useful Port 80 diagnostics card. If you're finding that you need more than the motherboard has to offer, the five PCI always provide extra expansion room.

There are only a few things I feel I need to complain about and number one is that Epox does not allow the end user to adjust the memory timings. Without that, the board came in behind the reference boards, albeit very slightly. Epox's 8HDA3+ is a good workstation motherboard, providing a completely stable system platform from our tests. The AMD Athlon64's future is very bright, and I'm sure the 8HDA3+ will do well.

Find out about this and many other reviews by joining the Weekly PCstats.com Newsletter today!

Related Articles

Here are a few other articles that you might enjoy as well...

2.