The software itself is a considerable improvement from the previous generation of Gigabyte's wireless network utility which we tested with their 802.11b products. It packs the features you need into a few, easy to read screens.
Its only flaws are a system tray pop-up window which can get intrusive (but is easily dealt with by right clicking the icon) and the rather odd inability to select a network to connect to from the 'site survey' screen. Instead, the user must go to the configuration screen and change the default SSID in order to connect to the desired network.
The software does not 'auto-associate' so all connections must be made by manually typing in the SSID of the network you wish to connect to. On the positive side, configuring the card is made very easy. The 'configuration' tab offers a wealth of options, allowing you to set SSIDs, encryption and security settings and even reduce the power of the card's signal for conserving your laptop's battery on the go. All options were easy to access and understand. We experienced no problems in configuring the GN-WMAG.
The GN-WMAG proved a very stable and reliable card during our tests. We experienced no dropouts or driver weirdness, and the card (and the laptop it was attached to) did not require resetting at any point during the multitude of configuration changes we made.
The card also roamed flawlessly between the 802.11g and 802.11b networks that we had set up to test. Its reception in our default test setup (around 20 feet from the access point on a different floor) was considerably greater than previous 802.11b products we had tested on the same setup. In general, a joy to use.
Wireless Benchmarks
We tested the GN-WMAG on separate 802.11b and 802.11g networks (an SMC Barricade router and a Gigabyte GN-A17GU Access point respectively), with WEP and WPA-PSK on and off. Our setup is intended to mimic standard home conditions, with the access point located approximately twenty feet from the laptop and on a different floor. NetIQ was used to test the response time and average data throughput of each setup, and a timed transfer of an 11.8MB file provided a real world performance test.
802.11g Wireless Network NetIQ Tests

Gigabyte GN-WMAG to:

802.11g
Gigabyte Access Point

802.11b SMC
Router
Average Throughput
21.5 Mbps
5.1 Mbps
Response Time
1 ms
4ms
11.8Mb Test file transfer
~5 sec
20sec
Gigabyte GN-WMAG with 64-bit WEP to:
WEP Average Throughput
20.1 Mbps
WEP Response Time
1 ms
WEP 11.8Mb Test file transfer
~6sec
Gigabyte GN-WMAG, 128-bit WEP to:
WEP Average Throughput
19.9 Mbps
WEP Response Time
1 ms
WEP 11.8Mb Test file transfer
~6sec
Gigabyte GN-WMAG, 152-bit WEP to:
WEP Average Throughput
19.5 Mbps
WEP Response Time
1 ms
WEP 11.8Mb Test file transfer
~6sec
Gigabyte GN-WMAG, 128-bit WPA-PSK to:
WPA Average Throughput
17.6 Mbps
WPA Response Time
2 ms
WPA 11.8Mb Test file transfer
~7sec
Gigabyte GN-WMAG, 'Turbo-G' enabled to:
Average Throughput
25.5 Mbps
Response Time
1 ms
11.8Mb Test file transfer
~5sec
Ethernet Reference:
10/100 Wired Ethernet (typical)

61.5 Mbps

Wired Response Time

1ms
The GN-WMAG showed respectable performance throughout, though the Turbo-g benchmarks were rather disappointing given the supposed doubling of wireless bandwidth that it offers. The card offered solid performance with the SMC 802.11b test router, illustrating 802.11g's backward compatibility.
If you are in the market for a wireless card for your laptop, the Gigabyte GN-WMAG would be an excellent choice. Easy installation and configuration, good security support and solid, trouble-free performance combine to make this card easy to recommend.
Certainly if you are considering buying a wireless card you should purchase an 802.11g compatible device, and the Gigabyte GN-WMAG is a good example of performance and backwards compatibility. The only annoyance we experienced with the card was the inability of the included software to automatically connect to wireless networks, instead requiring the SSID to be typed manually. On the whole though, the GN-WMAG is Recommended.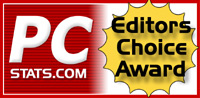 Find out about this and many other reviews by joining the Weekly PCstats.com Newsletter today!
Related Articles:
Here are a few other articles that you might enjoy as well...
- Gigabyte GN-WLBZ201 USB/802.11b Dongle Review
- Actiontec 802.11a 54Mbps Wireless Gear Review
- Belkin Wireless 802.11b Networking Review
- Installing a Home Ethernet