Abstract: As many of you already know, video formats change as you move from continent to continent. In North America we use NTSC, in Europe they use PAL, and in Asia SECAM.
92% Rating:
Home > Reviews > Home Theatre > samsung SV-7000W
VCR Controls:
| | |
| --- | --- |
| | |
| The upper left control panel houses RCA video and left and right audio input jacks. The SQPB selection switch | On the upper right side we have the power, eject, tracking, speed, audio out, channel and master reset buttons. |
| | |
| The fold-out panel on the front of the VCR holds most of the tape controls. In the center are the standard play/pause, stop, fast forward and rewind. On the left side of the same panel are the video signal input buttons. | On the other end of the fold-out panel on the front of the VCR are located the controls for the out put signal. There are two extra options that the SV7000W can output, MESECAM and NTSC4.43. |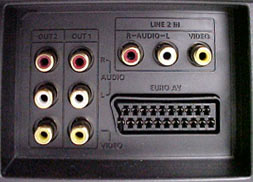 The rear of the VCR has inputs for two sets of Video and Audio L/R outputs, an input for Video and Audio L/R, and another connector known as a Euro-21 jack. The Euro-21 Jack, also known as a scart jack contains all the connections for Audio and Video input and output in one large cable.
While not shown in this picture, the SV7000W also has connectors for an RF antenna input, and RF TV out put. The jack is slightly different from what we might expect to see on the back of more standard North American VCR's so two small metal adapters are included along with the whole package.
| | |
| --- | --- |
| Rear of Adapter | Front of Adapter |
| | |
SEARCH PCSTATS

---

Use the power of Google to search all of PCSTATS and the PCSTATS Forums. Tell us what you think of this new feature - FEEDBACK?