Based on a four layer PCB, the KK266's layout is fairly standard, with not too many surprises. Those of you with a Swifttech MC462A or Zalman CNPS5000 will appreciate the mounting holes surrounding the socket. While the Swifttech is more the performance heatsink of the two, both heatsink absolutely require those four mounting holes in order to be strapped on top of the processor.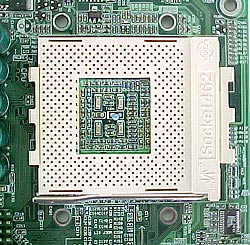 The center of the socket also holds a nice surprise in the form of an onboard thermistor. The thermistor is mounted dead center in the ZIF socket to get a good approximation of the actual temperature of the processor core directly above.

Positioned right up against the ATX power connector, this fan header is a bit hard to reach, especially when the board is connected to the PSU. Note the ICS UA130253 clock generator adjacent to the header.

It doesn't make contact with the processor as it is slightly recessed from the top of the ZIF socket, but it is definitely better than nothing.

It's also nice to see that no capacitors were placed closer than 7mm to the socket, and then only in the clip direction. There is a good +20mm clearance in the other direction, so even the most demanding thermal solution shouldn't have any problems fitting on this board.

For the fan crazy, Iwill have been kind enough to supply no less than four 3-pin fan headers, three of which are located around the cpu-socket. Sometimes these important little connectors can get stuck in the most awkward of places (this is where you really see how much thought went into the layout of a motherboard - from a users perspective anyway).

The only other components which are placed in a rather awkward location are the headers for the C3DX HSP56 audio chipset onboard audio auxiliary and CD input. For some reason they are placed basically directly under the first and second PCI card slot.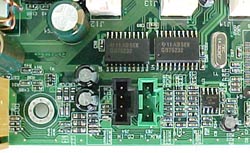 Over all everything is laid out with a good eye however. Both the IDE and FDD cable connectors are located at the top edge of the board, out of the way of all components and easy to reach. The ATX power connector follows this mantra as well an is located on the top edge of the motherboard between the three memory sockets and the CPU socket.
The KK266 comes with a full compliment of connections on the rear, but more on that in a moment.

Finally I just have to mention the handy little jumpers that Iwill have chosen to use on their board. Each jumper is yellow so it stands out, and has a small thumb grip so you don't have to get out the tweezers to make an adjustment. It's a little thing granted, but after loosing several of the more traditional black plastic jumpers to the depths of who knows where, I'm glad to see yellow jumpers that stand out if they get dropped by accident. As they say it's all about life's little victories :-)