Abstract: The KK266 motherboard from Iwill continues a long standing tradition of providing overclocking friendly solutions.
84% Rating:
Home > Reviews > Motherboards > Iwill KK266
A few quirks of the board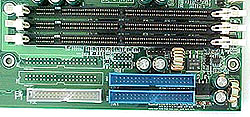 Unlike the KK266-R, this board came with no IDE-RAID. The silk-screens were still temptingly visible however.
One of the few quirks of this board that I wasn't expecting was the onboard Audio. While the onboard audio was based on a C-Media chip which is generally a whole lot better then the software-based VIA AC97 codec I didn't really care for it. In my personal opinion, I would rather use a full-scale audio card and have a less expensive motherboard without the onboard support.
It would be nice to have a choice when buying a motherboard rather then having mandatory onboard audio as a "feature". But hey that's just my personal preference.
Another thing I didn't particularly like was the fact I had to move a jumper to enable 133 MHz+ bus speeds. Why couldn't Iwill just incorporate a jumperless bios like everyone else?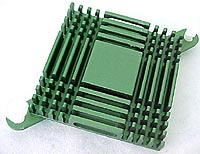 As we're on the subject of a minor annoyances, I was bit disappointed to find that I had to remove my AGP video card to install more memory.
However, the biggest thing I really didn't like was the fact that there was no thermal material between the Northbridge heatsink and the VIA KT133A chipset!
Even though it doesn't get too hot (okay, okay I'm being a stickler for details), it might hinder an overclocker from hitting the extreme high bus speeds in the 160 MHz+ neighborhood.
Note the Northbridge is tilted 45 degrees. The orientation is supposed to allow cleaner traces for more system stability.
As for overclocking I already knew my T-Bird 1.0 GHz chip could do 1533 MHz, I was "hoping" that this board might be able to push my chip a little further, but it was to no avail. All was not lost however!
Since I was always thinking that my Apacer PC-100 modules maxed out at 152 MHz CL2, I thought I was stuck to working with 150 MHz FSB's... This was where I had my most pleasant surprise! Feeling adventurous, I decided to see how high I could push the memory on this board. The overclocking gods must have been kind since I hit a whooping 165 MHz at CL2!!! Of course, I had to use the +10% VIO increase (which is kind of funny, with the increase voltage, it's still lower then Asus defaults!). Anyhow, let's see how the KK266 performs at 165 MHz at CL2!
SEARCH PCSTATS

---

Use the power of Google to search all of PCSTATS and the PCSTATS Forums. Tell us what you think of this new feature - FEEDBACK?