The BIOS on the KK266 has many of the features you would normally expect to see these days, plus a few that are used especially for those of you interested in tweaking the system into some exta performance. Who of aren't interested in a little extra speed after all?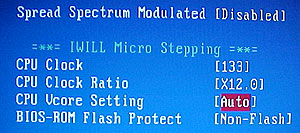 Iwill's Micro Stepping capabilities will be of special interest to the performance craving. Not only can you adjust the Front Side Bus by 1MHz intervals upto 166MHz. If you fail in your attempts to coax that special Athlon or Duron above and beyond the call of duty the BIOS will reset to the factory defaults.
The processors clock ratio is adjustable by this utility as well up to a value of 15, which is nice and high.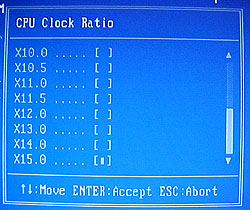 Additionally the Vcore, or Voltage to the processor, can be tweaked if you feel the constant crashing of an overclocked system is due to "not enough juice." The Micro Stepping feature will let you alter the Vcore from the default by intervals of 0.025V all the way up to a maximum of 1.850 Volts.

Of course if you are not content to just tweak your processor, the KK266's BIOS also gives you some moderate control over the memory settings. Amazingly, the instruction manual gives some pretty good descriptions (albeit short) about each of these settings, but the Cycle Length (CAS) setting will be of the most interest - it can be changed between 2 and 3.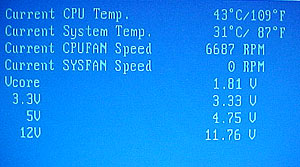 Last but not least it is always nice to see a motherboard's BIOS which gives you a bit of info on the system variables. By the way, that second thermistor is located right next to the Southbridge. Curiously only two out of the four fans seem to be supported for RPM monitoring.