It's easily one of the fastest board available, if not the fastest I've seen. Additionally the KK266 seems to be about as stable as comparable Asus boards! While during our testing the system did crash, but the crashes can be attributed to other inferior hardware that was being used - namely the inability of the memory to run faster than 165 MHz.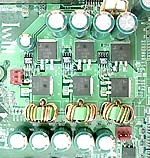 I'm positive the KK266 could go higher if I had higher performance components to test it with of course.
Since the KK266 is based on a 3 phase power solution, it brings peace of mind knowing that it'll support ALL current Athlon's and the Palimino's, aka Athon 4m when they're released. It's not quite known if the 2 phase motherboards will support them.
To sum it up, I can easily recommend the Iwill KK266 (or the KK266-R) to anyone who's interested in building a Athlon/Duron system that are interested in a powerful system, are an overclocker or just want a stable motherboard. Iwill really does deliver, and in fact, I'll be replacing my Asus A7V133 with a Iwill KK266-R of my own very soon!