I was really surprised at the A7V133's overall stability. I did have a few minor problems with a few of the hardware configurations though - for some odd reason, I couldn't install my Logitech Wingman Wheel using my SB Live! Platinum 5.1 card. It seemed like it didn't get enough power. Luckily I did have onboard audio (never thought I'd say that), so with it enabled, I was able to use the onboard game port. Yes, the two soundcards work fine together and I haven't had any resource conflicts.
Other then that, I must say, I'm pretty happy with the motherboard. Let's see how it performs when it's teamed up with a fast processor, some memory and of course a hard drive!
Test System Specs:
Computer:
Athlon "T-Bird" 1 GHz AVIA 0110 at 1.52 GHz (10x152)
Asus A7V133 BIOS 1004 BETA 003-A Via 4in1 4.30V
2x 256 MB PC-100 Apacer Ram
30 GB IBM DeskStar 75 GXP
20 GB Quantum Fireball AS
ATI Radeon 64 DDR VIVO (183/183) 4.13.7103 Beta Drivers
ATI TV Wonder
Realtek 10/100 NIC
AOpen 56k Modem
SB Live! Platinum 5.1
Software:
Windows 98 SE
Benchmarks:
SiSoft Sandra 2001 SE
HD Tach 2.61
Well let's see how Sandra likes this combination of hardware...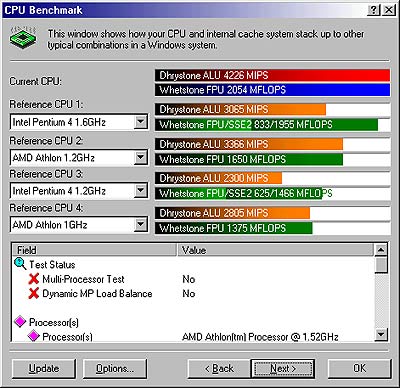 Of course our T-Bird is killing it's competition. This has more to do with the processor then motherboard though.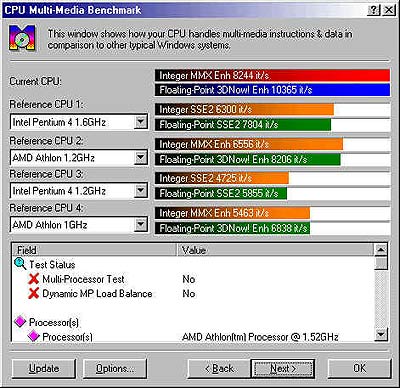 Personally, I think this benchmark is useless, but it does put the system into a good light.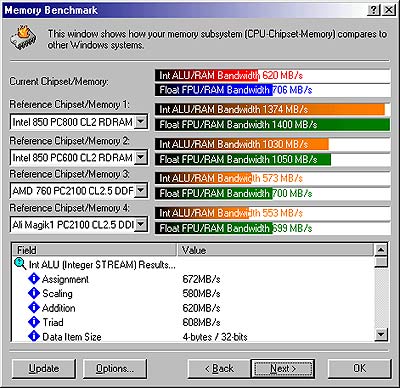 Having up the VIO to 3.6, I was able to get the ram stable at 152 MHz CL2! =)