Impressions:
I've had the RioVolt CD-MP3 player for quite a while now and the bottom line is, I like it.
When I first got the player there were some problems however. I didn't like the pre-programmed equalizer that was limited to only 5 options, and a rather annoying 1 second gap between songs. The factory default equalizer only had settings for "normal, classic, rock, jazz and ultra bass." These were fine but I would have liked to adjust the settings myself.
The 1 second gap between songs was an annoying problem because I typically listen to a lot of DJ sets that are mixed together to flow smoothly. The gap of silence was really noticeable.
Thankfully these problems are no longer an issue as SonicBlue have released several updates for the firmware. This highlights one of the main strength of this player is that the software is upgradeable, and any problems related to software, given time, will go away.
In terms of audio quality, I was somewhat surprised that the earphones were high quality, and for once I didn't need to replace them with something better. I've had them for awhile now and the wires have held up very well, unlike those in cheaper earphones. The only issue I have with them is that the bass response is kind of weak.
The Remote control is useful, but it feels kind of flimsy. The clip on the rear of the remote control is next to useless. Same goes for the carry case as it needs to be threaded on your belt to be of any real use. I have yet to use the case myself, and probably never will.
Conclusions: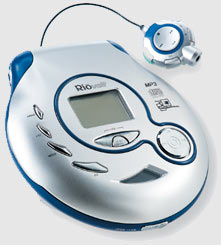 The RioVolt does what its designed to do very well. It plays a lot of music, and has a respectable battery life. I've used it at a cottage parties where it faithfully provided music for 3 days straight without a hiccup. It ran for many hours non-stop, and didn't skip a beat (no it wasn't on continuously for 72 hours).
I've also us it on commutes, and with rechargeable batteries it will play for about 8 hours solid. Get yourself a car kit and you got yourself an MP3 player for the car. Keep in mind that heavy bumps will cause the player to skip every now and then however.
The RioVolt itself looks amazing and is made from a high quality silver plastic, with some really neat details to the design. The design is very attractive and gets a lot of attention. People are really impressed when they find out what it is, and how much music it holds.
In my opinion, from what I've seen, the RioVolt is way ahead of the other CD-MP3 players on the market. It's provided endless hours of music without any troubles, and I wouldn't hesitate to highly recommend it.
Pluses:
Negatives:
-Uses reusable media (CD-RW's) and has virtually unlimited storage space (CD-R's)
-Upgradeable Firmware
-excellent earphones
-Versitility is unquestionable
Minuses;
-carry case is unusable
-weak clip for the controller
-CD Burner a must