One of the first things you won't notice about the front of the display on the 1100P-plus is the almost complete lack of buttons. Is this monitor adjusted and configured by brain waves alone? Well, as useful as telepathy might be for adjusting Moire or Convergence of a display, the designers at Samsung have thoughtfully hidden the control panel in a James Bond like drop out hidden console.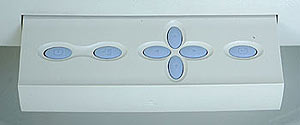 Simply push the hidden panel in and a little control console magically drops down. This keeps the front bezel looking nice and clean, and while the contrast and brightness controls are in the same place you would normally expect to see them on just about any type of monitor the controls which are not normally used are kept out of site.
1100P-Plus Perspective Shots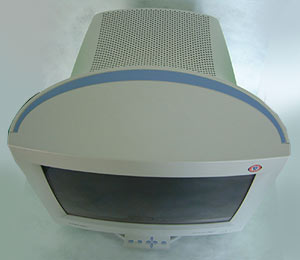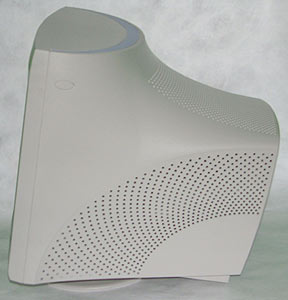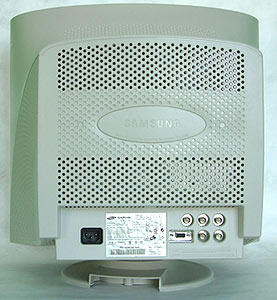 From the outside the 1100P-Plus is a very large display to contend with. Measuring in at 19.8x19.4x20 inches the photos we have here really don't do it justice. Basically just image a 20" cube sitting in front of you.
The display sits on a base and is easy to move left and right or tilt forward. The power button is the only control visible on the front bezel and is back lit to indicate "ON" status or "Stand By" mode. As we mentioned before the contrast and brightness wheels are located on the underside of the bezel for quick access.