The 1100p-Plus is a very large display, and given its' 21" display this should hardly be surprising. Where the differences stand with other displays of similar size is that the 1100P-plus has a full size case, where as displays like the CM828 have smaller enclosures akin to that of a 19".
Users with small desks should be aware that a monitor of this stature is going to consume not only a large amount of desk real estate, but also a significant amount of power. At maximum performance this display can draw up to 140W of electricity. A value to noticed in these power efficiency.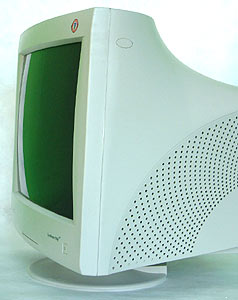 In terms of the display quality there were a few things we noticed about the display tube on the 1100P-Plus. First of all, this is the only monitor to have a perfect score in the high voltage test, secondly the colour representations is very brilliant and the refresh rate a true wonder to behold. In some after hours testing with our favorite DVD, The Matrix, we found the 1100P-plus really proved its' worth. Running off of an ATI RADEON 54MB DDR video card, the picture quality was absolutely lucious.
While the visual inspections confirmed a number of very positive traits about the 1100P-Plus there were a few effects in particular that we noticed about the monitor which where less than perfect. During the screen geometry test a grid pattern of different colours is represented on the screen. In the ideal world, the grid should be a series of perfect squares. While most CRT displays will have some degree of distortion visible, usually on one side of the display or at the corners, the display we looked at had a slightly elongated grid pattern at the top right (most notably).
Those points aside, the 1100P-Plus is an excellent display, and one that will make anyone stuck in the world of the 17" display happy to move over to. The BNC input connections will appeal to the professional video users or businesses working with video, while the standard analog input will enable any home user to take full advantage of a display of this size.