Abstract: With its' distinctive three and one RIMM slot orientation, the MSI 850 Pro2 is set to capture the attention of the ever increasing P4 market.
86% Rating:
Home > Reviews > Motherboards > MSI 850 Pro2
The Full 850 Pro2 Spec Sheet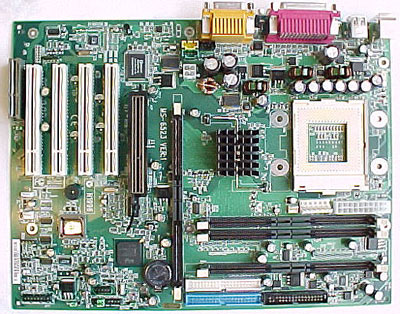 MSI 850 Pro2 Motherboard Specs
CPU
Support Socket 423 for Intel® Pentium®4 Processor Supports 1.4 ~ 1.7GHz Chipset
Intel® 850 Chipset
-- Up to 2GB Maximum memory (Rambus)
-- AGP Pro Interface with 4x SBA/Data Transfer
Intel® ICH2 Chipset
-- AC'97 Controller Integrated
-- 2 full IDE channels, up to ATA100
-- Low pin count interface for SIO
-- 4 USB Ports
FSB
Supports 400MHz FSB Main Memory
Supports four 184-pin Gold-lead RIMM sockets.
Supports a maximum memory size of 2GB. Slots
One AGP (Accelerated Graphics Port) slot.
-- Support up to 4x mode
One CNR (Communication Network Riser) slot.
Four 32-bit/33MHz Master PCI Bus slots.
Supports 3.3v/5v PCI bus Interface.
On-Board IDE
An IDE controller on the ICH2 chipset provides IDE HDD/CD-ROM with PIO, Bus Master and Ultra DMA 100 operation modes.
Can connect up to four IDE devices.
Audio
ICH2 chip integrated AC'97 Codec On-Board Peripherals
On-Board Peripherals include:
-- 1 Floppy port supports 2 FDD with 360K, 720K, 1.2M, 1.44M and 2.88Mbytes.
-- 2 Serial ports (COM A + COM B)
-- 1 Parallel port supports SPP/EPP/ECP mode
-- 4 USB ports (Pear x 2 / Front x 2)
-- 1 IrDA connector for SIR
BIOS
The mainboard BIOS provides "Plug & Play" BIOS which detects the peripheral devices and expansion cards of the board automatically.
IDE drive auto configure, Advanced Power Management (APM) 1.2, ACPI 1.0, DMI 2.0, ECC/Parity support. Dimension
30.4 cm(L) x 22.9 cm(W)ATX Form Factor Mounting
12 mounting holes.
SEARCH PCSTATS

---

Use the power of Google to search all of PCSTATS and the PCSTATS Forums. Tell us what you think of this new feature - FEEDBACK?