The BIOS on the 850 Pro2 has many of the features you would normally expect to see these days, plus a few that are used especially for those of you interested in tweaking the system into some extra performance.
Not only can you adjust the Front Side Bus by 1MHz intervals upto 200MHz, but if you fail in your attempt to coax that stubborn P4 above and beyond the call of duty, the BIOS will reset to the factory defaults. In our tests we were able to eke out a modest increase in performance to 1.95GHz.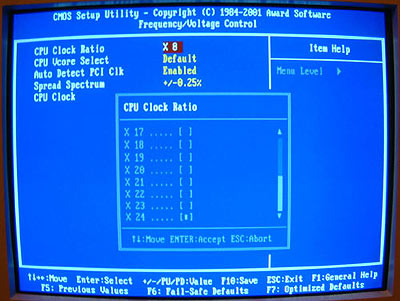 The processors clock ratio is adjustable by this utility, and can go as high as 24X, which is nice and high. Yup, nice and high.