So, what is the difference between the KK266 and the KK266plus?
Well, the KK266plus is built using stealth technology, and is undetectable by enemy radar. Errr... no, forget we ever mentioned that - the real visible differences between this, and the regular KK266 is the placement of the power supply connector, and a change in PCB colour. There are also a few underlying changes electrically speaking.
The first thing that you'll notice on the KK266Plus is the presence of a snazzy new active cooler on the northbridge. On closer inspection, there wasn't any thermal material between the heatsink and northbridge! Sure it helps having a fan, but thermal material would be nice, active cooler or not.
Second thing you notice, as we mentioned before is that Iwill decided to move the ATX power connector closer to the MOSFET's. This change is supposed to provide cleaner traces and a steadier power feed to the system components.
I haven't ever experienced any stability problems with my old KK266-R first hand, but I have noticed that my 5 Volt value goes as low as 4.6 V when the processor is clocked at around 1.5 GHz.
I've heard that's not a very good condition to be in, but still even with the changes I didn't like the fact the power cord has to drape over the CPU's heatsink fan. It also somewhat difficult to remove the ATX power cord because of it's close proximity to the onboard audio/gameport.
The general layout of the KK266Plus is plain and clean - which is good! There is one 4x AGP slot, six PCI's and an ISA for legacy devices. I was very pleased IWill didn't included any AMR/CNR/ACR slots since they're really only useful to OEM's.
If you haven't guessed from my previous reviews, I have personal vendetta against CNR sockets - it's irrational I know, but so are those slots. Anyway, moving on to the IDE and FDD connectors....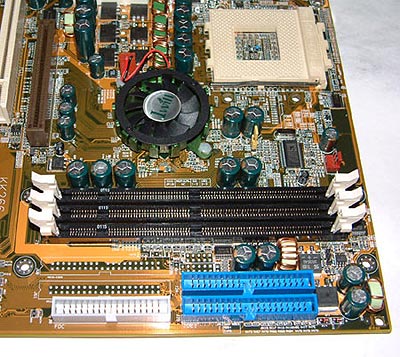 The placement of the IDE and floppy drive connectors, in my opinion, are perfect. When they are loaded up with ribbon cables everything will be nicely out of the way, and off to the side.
Like it's predecessor, there is a lot of space around the CPU socket - enough for me to install some of the larger heatsinks like the Swiftech MC462A and the above Dragon Orb 3. Inside the CPU socket, dead center, is a little thermal diode to take approximate temperature readings from the processor.
The only really annoying thing about layout of components on the KK266Plus is something that has become quite common with a lot of motherboards that have six PCI slots. Namely, having to remove the video card to add more memory. That's the price you pay for having six PCI's.