Conclusions:
For a SOHO or small business office this printer will provide enough of the tools and features for even the most demanding personal. The lack of fully automated duplexing is a minus, but the quick 17 pages a minute is more of a plus. Most of us around here tend to use one-sided printing anyway, so the lack of full duplexing may be overlooked by many. In any case, be aware that if you use duplexing you will have to flip over the paper and load it into the external fold down tray.
The software printer controls are very good, and allow users to print multiple pages on one sheet of paper, print booklets, stretch a document to fit a sheet of paper, print posters, print background watermarks and page overlays.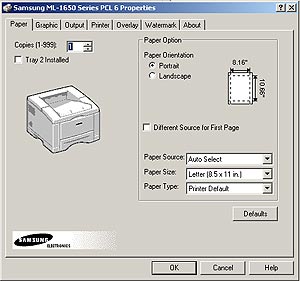 The ML-1651N proved itself time and again by meeting exactly, the manufacturers listed speed of 17 pages per minute, even at 1200dpi. Some of the trays have a fragile feel to them so it is important to consider that even though this is a very quick laser printer it is not really intended for rough or heavy duty work environments. The light weight, and small size make it easy to carry around the office without too much strain, and the simple controls and multiple hook-up points prove valuable for networked, and non-networked environments. Print quality is superb, and toner cartridge costs are quite reasonable at about $125 (8000 pages at 5% coverage).
All in all, it is a good quality printer, and worth considering for SOHO environments.
Printer Specs
Engine
Technology
Speed
Resolution
FPOT
Size (WxDxH)
Weight
Power (Avg/Sleep)
Electrophotography
17 ppm
1200dpi
14 SEC
14.2 x 16.1 x 11.4 inches
24.3 lbs
300W / 20W
Controller
Processor
Memory
Emulation
Fonts Standard
Fonts Option
Software

Interface Standard
N/W Card
User Interface
166MHz RISC
16MB, Max 144MB
PCL6, Optional PS3
45 Scalable, 1 Bitmap
136 PS3 Fonts
Windows 95/98/Me/2000/NT 4.0
Macintosh OS 8.0, Linux Redhat 6.0
IEEE1284 Parallel, USB
Ethernet 10/100 Base T installed
3 Keys, 4 LEDs
Paper
Input Standard

Option
Output
Sheet Size
Special Paper
550 Sheet Universal
100 Sheet Multi-Purpose Tray
550 Sheet Second Cassette Feeder
250 Sheet Face-Down
A4/Ltr/Leg./Exc./Mona./B5/A6
Transparencies/ Card Stock
Toner
Type
Life
Single Cartridge
4,000 Pages (starter)
8,000 Pages at 5% Coverage