The Award BIOS that powers the EP-4B2A is really overclocking and tweak friendly. With lots of adjustments for memory, voltage and clock speeds it gives the user a good amount of breathing room for custom adjustments.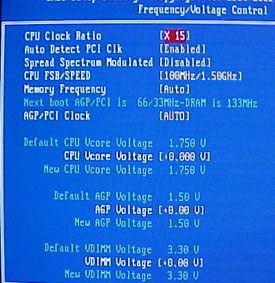 Processor Adjustments are standard; CPU clock adjustments range from x8 - x24 and CPU FSB can dialed in upto 200MHz in 1MHz intervals. We played around with the settings for a while but were only able to garner a 1.77GHz overclock on the 1.5GHz P4.
Not too significant, and unfortunately not that stable for us either. In times like this, where the computer restarts but you only get nice black screen, or a monitor blinking the orange stand-by LED, remember to press and hold the "insert" key during power on. This forces the computer to boot up with default settings.
Memory Frequency can be adjusted between FSB and FSB*4/3 if you want to take a more aggressive stance. The safest bet is always to allow the SPD to determine the operating frequency of the SDRAM.
AGP/PCI Clock can be changed from auto to either AGP-FSB*2/3, PCI-FSB/3, or AGP-66MHz PCI-33MHz. Both VDIMM and Vagp (AGP Voltage) can be tweaked in 0.1 volt increments, while CPU Vcore (Voltage to the Core) can be tweaked on 0.025V increments.
Memory Adjustments: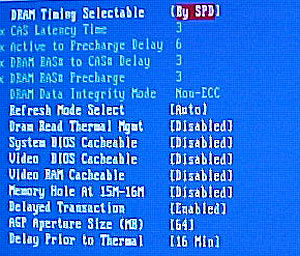 The Award BIOS also allows some modest adjustments to be made to the SDRAM. CAS latency can clipped to 2 if you've chosen to configure your own settings and override the SPD data. RAS-to-CAS, and RAS Precharge also follow suit in the 2, or 3 settings department.