Overall the Epox 4B2A has proven itself to be a very stable motherboard. When not overclocking it, we experienced no problems with stability or spontaneous reboots. The BIOS features will satisfy the tweaker at heart, but given the limitations of SDRAM there really only is so far this board can take the overclocker. The reliance on special Pentium 4 capable equipment is lessened greatly from previous socket 423 motherboards we have looked at.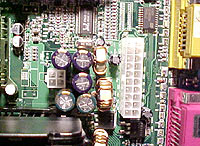 The powersupply need only support just the extra 4-pin power connector, and users do not have to buy RDRAM at all. Standard I/O configurations make it compatible with current cases, and PC133 SDRAM. About the only things you need to worry about are a socket 478 Pentium 4, still a somewhat expensive solution compared to AMD's offerings, but at least an upgradeable solution. The socket 423 form factor is basically dead, and there isn't much point in getting a processor which will shortly be left out of the new motherboard roadmaps.
The onboard audio feature is almost a given these days as the motherboard markets become increasingly competitive and cut throat. As most of you already know, these audio jacks are good enough for computer speakers but generally fall short if you plug a pair of head phones in.
Static and hissing is really annoying when you are listening to music with just a pair of headphones so do yourself a favor and get good audio card. The Philips Acoustic Edge works great for us. AC'97 is designed to auto-detect a sound card and shut off, or it can manually be turned off in the BIOS should you wish.
The Epox 4B2A is a good socket 478 i845 mainboard solution with a lot going for it. The entire P4+SDRAM world may not be right for everyone out there, but as a less expensive way to migrate onto socket 478 P4's it does its' job excellently.