Intel certainly threw the average user a gem when they released the i865PE Springdale chipset in an 800MHz FSB flavour. Not only does the i865PE offer close to 90-95% the performance of the more expensive i875P Canterwood chipset, it costs less. With the new found ability to turn on PAT, that's simply icing on the cake.
Epox is well known in the AMD world for their past motherboards but they've been fairly quiet when it comes to supplying boards for the Intel market, until now that is. The 4PDA2+ easily positions Epox at the forefront of the enthusiast market, not to mention that it would make an excellent upgrade. With a support range of CPU voltages of up to 1.8V, AGP of up to 2.2V and memory of up to 3.3V, there are plenty of tools to keep the enthusiast preoccupied. In fact, those are the some of the highest voltage options we have ever seen.
Yes I know that the average user looking for a good motherboard to upgrade their computer is not interested in the enthusiasts realm, and that's fine, the Epox 4PDA2+ is a nice and well rounded motherboard too. With 5.1 audio, Broadcom Gigabit LAN, IEEE 1394, Serial ATA/Serial ATA RAID, an Ultra/133 IDE controller and a Port 80 diagnostics card there isn't much else you'll need. Expanding the motherboard is easy with its five PCI slots and lone 8x AGP port.
Epox was obviously thinking of the end user when they designed the 4PDA2+ as the layout of the board is excellent. From the good placement of the main IDE channels/ATX power connectors to the headers all located at the edge of the motherboards Epox makes your installation job easier. The only thing I have to complain about is the location of the Clear CMOS jumper, since it is difficult to reach.
Performance of the board was very good, it's on par with the other i865PE boards we've tested in the past and on average is just slightly slower then the more expensive i875P brethren. With a retail price of $195 CDN ($140 US)the Epox 4PDA2+ Rev 2.0 is a very affordable motherboard which has a ton of features and is extremely fast. If it's not fast enough let the wild side of the 4PDA2+ take over. Either way if you're in the market for a new Pentium 4 motherboard make sure you check out this board!
Find out about this and many other reviews by joining the Weekly PCstats.com Newsletter today!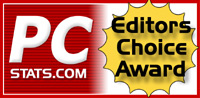 Related Articles

Here are a few other articles that you might enjoy as well...

2.