We honestly expected bigger things from the Shuttle AV45GTR. As we were extremely impressed with the AMD-based AK35GTR , the performance of the AV45GTR left us wanting more.

The layout of the board is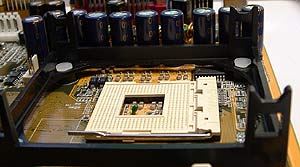 good, the placement of the Aux. power connector and P4 connector could be in a better place. With no extra fan headers free, users looking to plug in extra fans will have to pull out the Molex passthru cables and hook up and adaptor (if they have one). We always like to see at least one or two vacant fan headers after the processor heatsink has been plugged in as a rule of thumb.
On the BIOS side, Shuttle might want to consider adding controls for CPU voltage adjustments in future BIOS revisions. That would make the AV45GTR appeal more to the enthusiast crowd.
Still, the AV45GTR has plenty to offer. With a nice healthy amount of PCI slots, a hardware based 5.1 sound system, and on board Ultra/133 RAID there aren't many things that need to be upgraded or added.
One very important thing we have noticed about the Shuttle boards we have looked at so far is stability. In particular, the AV45GTR didn't crash once during testing at stock or overclocked speeds.
Bottom line, the Shuttle AV45GTR is a good board for the Pentium 4 consumer - perhaps in the office environment where gaming performance isn't a deciding factor, and the extra costs of sound cards can be left out of the equation. ATA133 is sort of a platform in transition between Serial ATA, and ATA100, but for the moment, it offers users looking for relatively fast IDE-RAID a good starting point.