MSI like most mainboard manufacturers these days, uses the Award. It's easy to see that unlike many of the other P4 boards we've played with, the 845 Ultra-ARU had a "darker" side. There are quite a few memory tweaks and overclocking functions available to the user.
As It's possible to set the speed of memory from either 200 MHz or 266 MHz, and you can adjust the CAS Latency and AGP Aperture Size. I was a little disappointed that Intel still hasn't incorporated Fast Writes into their northbridge yet, I find even at high FSB speeds, my Ti500 gets a little boost with Fast Writes on.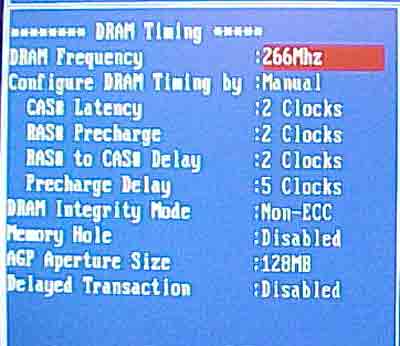 Since our Pentium 4 2.0GHz (Williamette) was a retail chip, the multiplier was locked, so that's why the BIOS says locked on the "CPU Ratio Selection." FSB could be tuned from 100 MHz to 200 MHz in increments of 1 MHz, however you can't just type in the FSB you want.
Instead the 845 Ultra-ARU's BIOS only allows you to scroll through the list - this could be a little bit of a hassle if the sweet spot is around 150 MHz. DDR voltage could be bumped from 2.5V to 2.6V, not exactly the highest we've seen, but since P4 multipliers are locked, it's a lot harder to get those insane high FSB's we're all use to from AMD systems.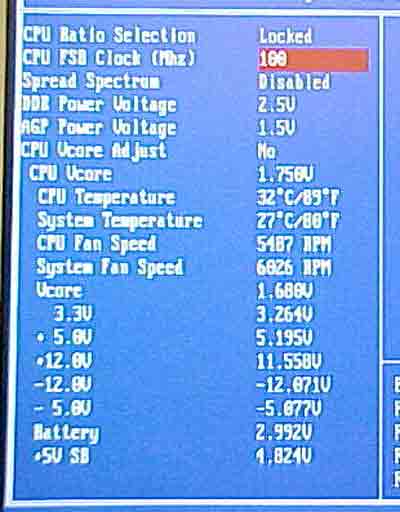 The 845 Ultra-ARU also allows the user to change their AGP Voltage. Our reference MSI G3Ti500 Pro-VTG video card usually only overclocks to around 270/610, however with the increased AGP voltage (1.6V) we were able to get the core just a little higher, to 281 MHz! The memory still wouldn't go any higher without getting artifacts, but CPU VCore could be adjusted to 1.85V if you wanted to play dirty.
On that note, overclocking was a little difficult. Since our P4 2.0GHz was built on the Williamette core (0.18 micron technology), the highest we could get the FSB to was 108 MHz. I'm positive that if I had a Northwood P4, the 845 Ultra-ARU would go a lot higher since we all know the 0.18micro P4's hit their max at speeds of around 2.1 GHz.