3DMark2001 SE is the latest installment in the 3DMark series by MadOnion. By combining DirectX8 support with completely new graphics, it continues to provide good overall system benchmarks. 3DMark2001 SE has been created in cooperation with the major 3D accelerator and processor manufacturers to provide a reliable set of diagnostic tools. The suite demonstrates 3D gaming performance by using real-world gaming technology to test a system's true performance abilities. Tests include: DirectX8 Vertex Shaders, Pixel Shaders and Point Sprites, DOT3 and Environment Mapped Bump Mapping, support for Full Scene Anti-aliasing and Texture Compression and two game tests using Ipion real-time physics. Higher 3DMark scores denote better performance.
3DMark 2001 SE Benchmark Results
MSI 845 Ultra
3DMarks
Ranking
1.
100 MHz FSB
7810
2.
108 MHz FSB
8128
Since the MSI 845 Ultra-ARU uses the i845-D, DDR provides double the bandwidth SDR RAM would have, so the scores are quite nice! =)
Quake III Arena is a First Person Shooter (FPS) that revolutionized gaming as we know it. Using multiple light sources and having graphics textures that can fill videocards, even after 3 years it's still able to bring a cutting edge system to its knees.
Quake III Arena Fastest demo001
FSB
FPS
Ranking
1.
100 MHz
262.3
2.
108 MHz
286.3
Quake III Arena Fastest nv15demo
FSB
FPS
Ranking
1.
100 MHz
72.6
2.
108 MHz
77.9
Thanks to the DDR RAM the 845 Ultra uses, the P4 simply can't get enough of Quake III. Those are very very respectable numbers for any system!
Quake III Arena MAX 1024x768 demo001
FSB
FPS
Ranking
1.
100 MHz
186.7
2.
108 MHz
192.6
Quake III Arena MAX 1024x768 nv15demo
FSB
FPS
Ranking
1.
100 MHz
49.7
2.
108 MHz
53.7
Turning up the resolution a little, the video card starts to become the bottleneck. Still, the MSI 845 Ultra teamed up with a P4 and a GF3 Ti500 makes this is still very very playable!
Conclusions:
Overall the MSI 845 Ultra proved itself to be a very stable motherboard. When running at stock speeds and overclocked, we experienced no problems with stability or spontaneous reboots which is probably due to the work of Intel's superb chipset designers. The BIOS features will satisfy the tweaker at heart and with the abundance of overclocking options it will allow you to max out your CPU as well. Being based on the Socket m478, the 845 Ultra-ARU gives users a more stable upgrade path then the doomed Socket 423 ever did.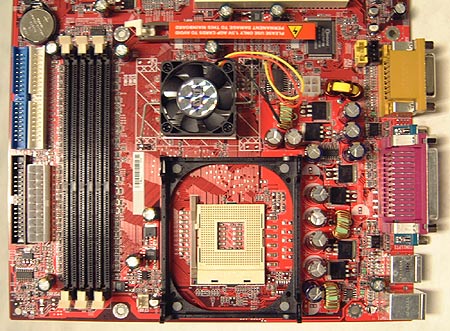 A powersupply for use with this motherboard need only support the 4-pin power connector, and not the older AT style power tap. Standard I/O configurations make it compatible with current cases, and with the on board sound you could even save a fe bucks and forgo an additional sound card. On board audio is pretty standard feature these days as the motherboard markets become increasingly competitive and cut throat. The AC'97 codec is one of the least expensive options, but it doesn't offer users any really great benefits. The C-Media 8738 is at least comparable to the sound quality equal of a Sound Blaster Live! 5.1.
In short, MSI 845 Ultra-ARU is a very good socket 478 i845-D mainboard solution, and one with a lot going for it. The 845 Ultra-ARU not only has IDE RAID, and support for up to 2GB of DDRAM, but also comes with on board sound as we mentioned and USB2.0 compatibility. While the Pentium4 and DDR still isn't as fast as a P4 equipped with RDRAM, it offers a huge boost over that of SDRAM. MSI has done very well with their 845 Ultra, it's easily one of the most feature rich P4 boards out there and it also has a wild side should you decide to void your processor's warranty!