Like most other motherboards, VIA has chosen the Award BIOS for the P4XB. Expecting a BIOS setup similar to an Intel motherboard, we were pleasantly surprised with the amount amount of tweaks and overclocking functions available!
It's nice to see that VIA 100% supports the darker side of computing!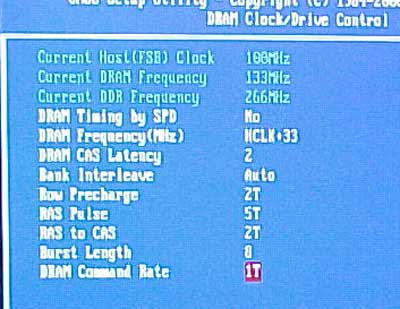 There are quite a few criteria available to the tweaker at heart. CAS Latency adjustments are probably the biggest tweak an overclocker can do - often the difference between CAS 2 and CAS 2.5 is 5% of performance.
The Award BIOS used on the P4XB makes it possible to change the memory speeds from 100 MHz to 133 MHz.
Even though it's not really a big deal, we would have liked to have been able to change the bank interleave settings, rather then just toggle between Auto or Off. I personally would have forced 4-Way interleaving if I was able.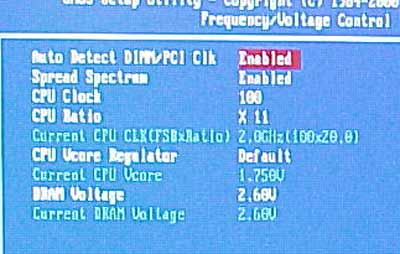 As you can see in the above picture, just about everything can be adjusted. The CPU Ratio (multiplier) on our P4 2 GHz was so adjusting that would have no effect.
You can set any FSB speed from 100-200 MHz in increments of 1. Pentium 4 processors tend to have a harder time hitting those high bus speeds, but it's still nice to see you have the option open.
Voltage to the processor core can be altered from a low of 1.75V to 1.85V, and DDR RAM voltages can be tweaked from 2.50-2.65V.
We applaud VIA's attempt to cater this board towards everyone! Should you set your FSB too high during a late night session of overclocking the motherboard doesn't have any form of safe recovery, but "clear CMOS jumper" is easily accessible.... I use CMOS jumpers so much (in general while testing in the lab) I've been thinking of hooking up a remote control (something akin to a hacked up garage door opener) to the jumper so I can just press a button and remotely reboot and clear the CMOS in one go... it's still just an idea though!
Overclocking:
Our Pentium 4 2 GHz is based on the Williamette core so overclocking is a little more difficult than with the Northwood versions. I knew it could hit 2.2 GHz in the Acorp 4D845A and the P4XB-RA didn't disappoint us either!
Any motherboard that can push a Williamette to 2.2 GHz on air cooling with Vcore set to 1.85V is quite a feat, P4 Williamette owners should understand that.