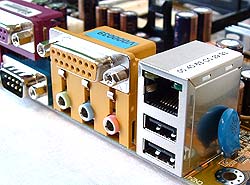 Thankfully, the P4PA fairs very well in this regard, with all components placed in pretty good positions there isn't much to find fault with. The 4x AGP slot for instance, is one of the few around that will support either a 1.5V video card or an older 3.3V video card. This is great for users who want to upgrade their system but plan to use an older 3.3V AGP videocard. The AGP socket also has a lock to keep the videocard nice and secure.
With six 32bit PCI slots available, there is plenty of room for expansion should you ever need it. The ever useless CNR s tucked away at the bottom of the motherboard so it doesn't cost the P4PA a PCI slot.
The IDE and floppy drive connectors are in the perfect spot from my experiences. Placed next to the DIMM slots they don't get in the way of anything else in the computer or disrupt air flow. I wish more motherboards were like this!
As mentioned above, the P4PA uses the VIA AC'97 codec which is just not too great for gamers audio. It would have been nice if VIA had dropped in a C-Media 8738 chipset like they did for the P4XB-RA we reviewed here. The AC'97 codec almost guarantees that you will want to install a sound card so you can play games, listen to MP3's or watch movies with out impacting on system performance significantly.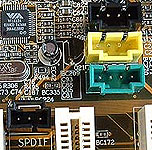 Since broadband internet access, and home Ethernets are becoming common these days, the onboard 10/100 network card is quite a nice feature to have. The P4PA has USB 2.0 jacks built into it thanks to the VIA VT6202 chipset. However this only gives users two USB slots. This is two less then most other boards come with, but since it has two USB 1.1 ports it's not really that bad as USB 2.0 is backwards compatible with USB 1.1. USB1.1 is not forwards compatible with USB2.0 however.
Oddly, the I/O ports on the motherboard are not standard, so you'll need to replace your case backplate with the correct one, which was not included with our evaluation board, but may be with the consumer version.
Other Features
The P4PA has a total of three fan headers which is standard today. One is located near the AGP slot, so those of you who use third party GPU coolers can have easy access to a fan header. It's funny that even though the P4PA has onboard LAN, the onboard Realtek chipset doesn't support the Wake On LAN (WoL) function.

Incidentally, VIA have chosen to equip the P4PA with the new VT8233A southbridge which has support for Ultra/133 hard drives. Lastly, the overclockers best friend, the Clear CMOS Jumper is located in a decent place and easily accessibly.