3DMark2000 is still a popular benchmarks for evaluating 3D performance even though it is getting a bit dated. 3DMark2000 continues to provide benchmark results that gauge DirectX7 performance and hardware transformation and lighting that older games still use. Version 1.1 ensures more reliable functionality with hardware and operating systems that were released after the launch of 3DMark2000 in December 1999.
Higher numbers denote better performance.
3DMark2000 v1.1 Benchmark Results
Video Card
3DMarks
Ranking
1.
Prophet 4000
4815
2.
Prophet 4500
6398
3.
6326
N/A
4.
TNT2 M64
1919
5.
V7100Pro
6731
6.
Xpert 2000Pro
1356
7.
Xpert 98
N/A
3DMark2000 doesn't consider the SiS 6326 or ATi Xpert 98 to be 3D accelerators and they couldn't run the benchmark. Here we can see the GeForce2 MX400 hold the lead with the Kyro2 very close behind.
3DMark2001SE is the latest installment in the 3DMark series by MadOnion. By combining DirectX8 support with completely new graphics, it continues to provide good overall system benchmarks. 3DMark2001SE has been created in cooperation with the major 3D accelerator and processor manufacturers to provide a reliable set of diagnostic tools. The suite demonstrates 3D gaming performance by using real-world gaming technology to test a system's true performance abilities. Tests include: DirectX8 Vertex Shaders, Pixel Shaders and Point Sprites, DOT3 and Environment Mapped Bump Mapping, support for Full Scene Anti-aliasing and Texture Compression and two game tests using Ipion real-time physics.
Higher numbers denote better performance.
3DMark2001SE Benchmark Results
Video Card
3DMarks
Ranking
1.
Prophet 4000
3172
2.
Prophet 4500
2708
3.
6326
N/A
4.
TNT2 M64
824
5.
V7100Pro
3443
6.
Xpert 2000Pro
603
7.
Xpert 98
N/A
Like in 3DMark2000, neither the 6326 and the Xpert 98 can't run the benchmark. The Kyro based cards do quite well here because of their tile based rendering.
Quake III Arena is a First Person Shooter (FPS) that revolutionized gaming as we know it. Using multiple light sources and having graphics textures that can fill videocards, even after 3 years it's still able to bring a cutting edge system to its knees.
Quake III Arena Fastest demo001
Video Card
FPS
Ranking
1.
Prophet 4000
213.7
2.
Prophet 4500
214.2
3.
6326
N/A
4.
TNT2 M64
97.8
5.
V7100Pro
261.8
6.
Xpert 2000Pro
85.7
7.
Xpert 98
27.4
Quake III Arena MAX 1024x768 demo001
Video Card
FPS
Ranking
1.
Prophet 4000
54.7
2.
Prophet 4500
98.1
3.
6326
N/A
4.
TNT2 M64
10.7
5.
V7100Pro
75.5
6.
Xpert 2000Pro
10.7
7.
Xpert 98
N/A
Quake III benchmarking in general with this group of cards was very painful. It looks like the 6326 is just too old since Quake III Arena wouldn't load and the cards in general are only playable with the fastest settings. With everything turned to max at 1024x768 the Prophet 4500 (Kyro 2) performs very well, even topping the GeForce2 MX400 by quite a substantial lead!
Conclusions: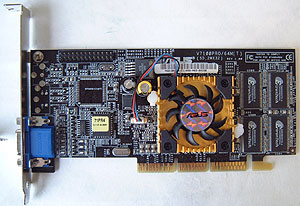 Since there are a lot of people who are really looking for the best for their buck, shopping by price alone is still a big influence in decision making. After all, killer video cards are usually overkill for simple DVD playback or just simple word processing.
If you're a person who mainly uses their computer for office type work, and nothing else, even something as cheap as the ATi Xpert 2000Pro would suffice since it has a nice RAMDAC speed of 300 MHz and is able to deliver sharp and crisp 2D images at a resolution of 1024x768.
If you use your computer as a home theatre machine as well, and would like to output signals to a TV, then the PowerColor TNT2 M64 would do you well with it's TV-Output and excellent video performance. The Hercules Prophet 4000 is a better overall card then the PowerColor but its video performance isn't quite as good.
In terms of 3D applications, a card based on the GeForce2 MX400 would do fine. Since it closely resembles the Quadro2 MXR and its professional OpenGL brother in terms of gaming, it leads the way in most categories.
Overall it's not surprising that the GeForce2 MX400 was number one in most benchmarks since it is also the most expensive video card at $125 CDN. The Pine 6326 and Xpert 98 fought for last place since they were the cheapest at $35 CDN each, less than the price of a good heatsink.
Please, one thing to consider when purchasing a value oriented videocard or any component in general, if you're going to pay very little for it you're not going to get very much from it. True the requirements of general office work are not nearly the same as that of a finely tuned gaming system, but if you can spend a little extra, your eyes will thank you for it!