Innovative Office Products 7000 series radial arm is completely made out of metal, either cast aluminum for the arm sections, or steel for the mounting hardware. There are no plastic components to break or snap, because there is no plastic used in the supporting members.
The base plate which mounts on the edge of a desk is cast aluminum and looks very elegant. The "L" bracket which mounts to this is a rather thick piece of powder coated steel, and whole assembly is sturdy enough that it is more likely you desk will fail first if anything were to happen. I would recommend attaching this arm to a desk at least an inch thick, or use an extra support if you have something thinner (like a MDFB-based table from Ikea).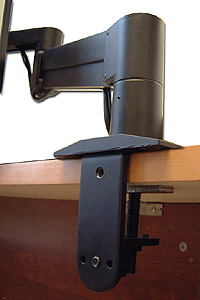 The cable management system leaves the wires hanging around the first pivot, but this looks fine. The wires are completely hidden down though the main arm and then pop out at the base before slinking down behind the desk. The only limitation here is how long your video cables are as that plays right into where you can position the computer system. Most LCD video cables are about 5"-6" in length so you have a lot of room to work with.
The three 360° make adjusting the unit to the right orientation for a particular setting especially nice, and by adjusting a small set screw at each point you can increase the friction, making it stiffer or looser depending on personal preferences.
The only I really had any difficulty with was the tilt joint behind the LCD panel. There is a large allen key screw which you need to get access to in order to set the tension on the joint, but with a monitor there it is hard to reach. Even with that screw as tight as I could get it, I still found the tension on the tilt joint a bit too loose for my liking.
The necessity of using an allen key to make adjustments like that, or to the other joints is not a down side in my mind. I would rather use a small tool like that then suffer with the alternative - lots of little knobs. Unlike office chairs which can easily get away with having lots of little knobs for adjustments this arm would just look bad that way. With the allen keys the entire unit remains adjustable, and at the same time retains its strikingly good appearance.
The semi-matt black powder coating is a tough finish, and one that should wear well with time. This really is a good looking and versatile LCD arm and the counter balance just adds to its usefulness by allowing constant adjustment and repositioning if desired - this is not a display you set up and just leave in one position!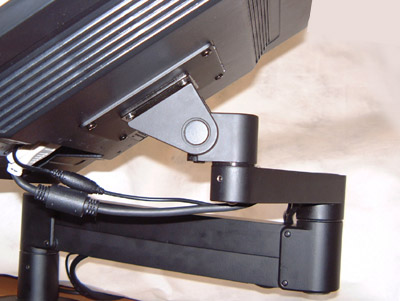 The dynamic functionality of the Innovative Office Products 7000 Series Radial Arm is quite surprising, and something that really brings out the full potential of flat panel LCD displays. Other than the one point we mentioned about the tilt joint, everything else on the 7000 series met our expectations without a hitch. If you own an LCD display you really ought to consider getting an LCD armature such to free up all of that desk space. :)
So tell us, what do you think this LCD display Arm? Come to the forums and let us know how this device would rate on your scale.