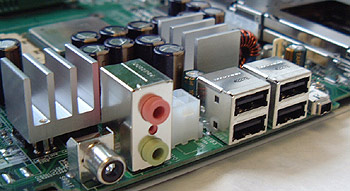 The MSI Hermes barebones PC is based on the custom designed MS-6535 motherboard which uses the SiS650 Pentium 4 chipset.
The motherboard supports Socket m478 processors which runs on a 400 MHz FSB (Celeron or Pentium 4). With its two DIMM slots, the motherboard can accommodate up to a maximum of 2GB of PC1600/2100 DDR RAM.
Because of the relative small size of the system, it's a given that most of the systems components are integrated into the motherboard already so you don't need to worry too much about expanding on the basic system.
The MS-6535 has 10/100 LAN, 5.1 audio, Memory Stick Reader, USB 2.0 and IEEE 1394. While the motherboard has both analog and DVI video outputs, the system does not support dual monitors. You can however hook up a TV via the TV/S-Video outputs while using a regular computer monitor as well. Expanding the motherboard is a bit more difficult but not impossible.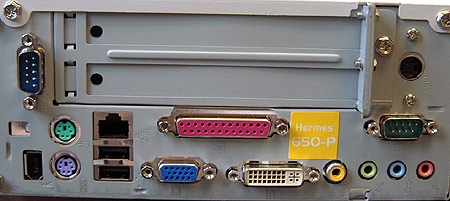 MSI includes two PCI slots (via a riser card) as well as two PCMCIA slots at the front. It was nice to see that installing longer PCI devices like the SB Audigy is possible. While PCMCIA is not quite as useful as a full blown PCI slot, they still do offer the end user quite a bit of flexibility as there are many PCMCIA devices on the market, such as Wireless LAN adaptors.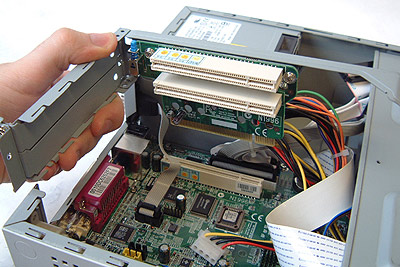 Since MOSFETs generate quite a bit of heat, it was nice to see MSI went out of their way to try and cool them with some passive aluminum heatsinks. It would have been nice to find an AGP port in the Hermes as well, but considering the size constraints it I don't think this would have been very realistic, and besides the SiS chipset is not really geared towards gaming systems. Tracking down a relatively new PCI videocard is a little bit of a challenge, but not impossible. Even though the SiS650 Northbridge doesn't get very hot, I would have preferred to see a larger passive heatsink on it.
Up next the benchmarks of what should prove to be a pretty decent web and SOHO oriented computer.