Quake III Arena is a First Person Shooter (FPS) that revolutionized gaming as we know it. Using multiple light sources and having graphics textures that can fill videocards, even after 3 years it's still able to bring a cutting edge system to its knees.
Quake III Arena Fastest demo001 (SYSTEM)

Motherboard (FSB)

FPS
Ranking
1.

P4 1.6A - 100 MHz

253.4
2.

P4 1.6A - 163 MHz

373.6
Quake III Arena Fastest nv15demo (CPU STRESS)

Motherboard (FSB)

FPS
Ranking
1.

P4 1.6A - 100 MHz

71.4
2.

P4 1.6A - 163 MHz

106.4
Quake III has always loved the bandwidth available from a Pentium 4 processor. Even at stock speeds, the P4 1.6A performs quite well!
Conclusion:
The Pentium 4 1.6A processor is highly recommended for overclockers and performance users. The chip offers a great value even if you do not intend to overclock it, and with a retail price of $229 CDN ($150 US) it's about the cheapest P4 you can buy at the moment. It's nice to see the Pentium 4 processor is finally starting to live up to the vast potential which Intel has always been promoting.
The Pentium 4 architecture is built for high clock speeds and as we can see with this 1.6A, that is very true. It's nice to see that Intel did more then just a die shrink with the Northwood core. The extra 256KB L2 cache will give the P4 about a 10% speed boost clock for clock compared to the Williamette P4.
At stock speeds, the P4 1.6A does feel a bit underpowered especially in the office based benchmarks. The 3D benchmarks don't seem to mind as much since they also heavily depend on the videocard. Overclocking unleashes the beast from within and at 2.61 GHz, the P4 flies through all the benchmarks with no problems!
After seeing these results we take back everything bad we've ever said about the Pentium 4! It's an excellent processor and with such low prices it simply can't be beat in terms of value or performance.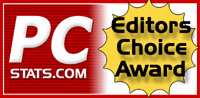 Related Articles:

Here are a few other articles that you might enjoy as well...

2.