Temperatures:

We were very surprised to see such high temperature readings from the T-Bred CPU's.

With a Thermalright SK-6 heatsinks and a 40CFM 60mm YS Tech fan the Athlon XP2100+ was hitting 52 degrees celsius at stock speeds, and the Athlon XP2000+ just above 51 degrees. This is due to the smaller sized core. Because the core is smaller, there is less contact between the die and the heatsink so thermal transfer is decreased greatly.


AthlonXP 2000+


AthlonXP 2100+

As for the core technology, the new Athlon XP T-Bred is basically a shrunken down version of the Palomino - the cores are basically the same, the process used to make them is just more advanced. The T-Bred has SSE technology, hardware prefetch and PowerNow! technology.

If you'd like to learn more about the T-Bred/Palomino technology, please read this article on PCstats.

Overclocking:

Ahh, overclocking. History has shown us that smaller cores usually mean better overclocking. Just look at the Pentium III Katmai VS the Pentium III Coppermine, or the P4 Williamette VS the P4 Northwood. Our overclocking attempts with the two AthlonXP T-Bred processors were very weird to say the least.

The AthlonXP2100+ was multiplier locked by default and the highest FSB we could reach was 136 MHz FSB with a voltage of 1.75V! 1768 MHz was the highest speed we could get, a very minor 35 MHz above stock speeds! Temperature readings at that speed were hitting 65 degrees celsius! The Athlon XP2000+ though was a different story though.

By default the Athlon XP2000+ was multiplier unlocked and we could use any multiplier from 6x-12.5x. The XP2000+ turned out to be a better overclocker then the XP2100+, hitting a top speed of (12.5 x 152 MHz) 1.9 GHz at a voltage of 1.75V. Temperatures were hitting 65-70 degrees celsius, but the system was 100% stable during testing.

I'm not sure if retail T-Bred CPU's will be unlocked by default but I wouldn't be betting on it.

Multiplier on XP2000+ was adjustable on the 8K3A+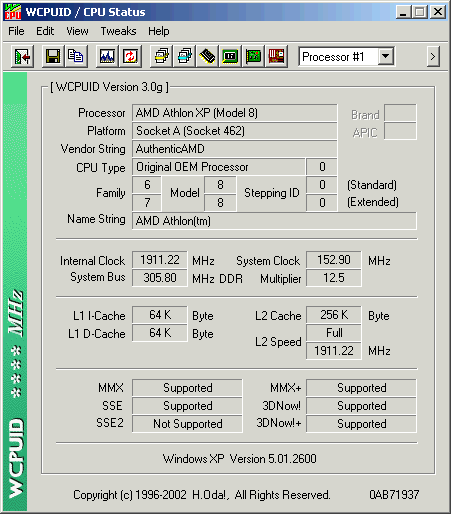 Both AthlonXP T-Bred processors were based on the AIRCA stepping and from the evidence online here and here that stepping doesn't overclock well in general. AMDMB.com was able to hit an amazing 2.1 GHz+ with their XP2200+ but both of their XP2100+'s overclocked only a small amount.