The CPUmark 99 test produces normalized relative scores that are meaningful only when you compare them to other WinBench 99 processor CPUMark 99 scores. With these scores, bigger numbers mean better performance. Being a synthetic benchmark, one cannot judge it's performance under real-world applications but only how well one CPU performs against another.

The graph shown below indicates the performance tested between the VIA/Cyrix MII-PR433 and the Intel Celeron 333 processor. The CPUMark 99 test was run 5 times on each CPU/clock speed setting and the result having been taken as the average of the 5 test runs. As overclocking has also taken place, in this graph you will see the VIA/Cyrix processor rated at a clock speed as opposed to a PR-rating.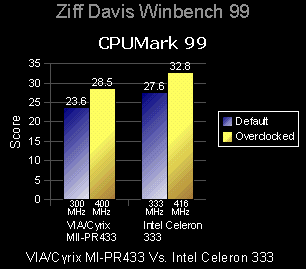 As you can see that PR ratings do not seem to be indicative of actual performance when compared to a Celeron processor. Under this particular benchmark, the performance of the VIA/Cyrix MII-PR433 falls short of the Intel Celeron 333. Though the VIA/Cyrix CPU clocked at 300MHz is rated with a PR of 433, it is not the rating to be used when compared to a Celeron CPU clocked at 333MHz.
But when the clock is pushed up to 400MHz we see in the score that it finally does surpass the Celeron 333. When the Celeron was overclocked to 416MHz, it significantly beat the MII clocked at 400MHz on the performance scale in CPUMark99.
Benchmarks: Quake 2

Here we go with an extremely popular gaming benchmark which will test the performance of the CPU under this particular application. Since 3D games including Quake 2 are heavily FPU dependant, this benchmark should be a good indication of the floating point performance of the MII processor.
No hardware 3D acceleration has been provided and video settings under Quake 2 are set as software. By doing this we can see just how well the CPU performs on its own merit. In the past, we have seen a relatively weak FPU engine on Cyrix processors. Is this still the case? Well, take a look at the graph and see for yourself...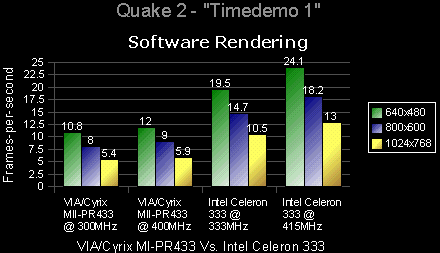 MMX being the common denominator, floating point performance of the MII significantly lags behind the FPU performance of the Celeron processor. The MII does not perform as well as its competitors in the gaming market. This of course, is not a miniscule share of the market. Had Cyrix then designed a better FPU, the MII could have occupied much more of a market than it has now. Instead it has suffered a lot of flak from the gaming community and thus, the Cyrix reputation has been tarnished because of it. People are too quick to forget that it does perform pretty well under business applications which are less FPU intensive.