Never have I had so many conflicting thoughts on a piece of computer hardware.... On one hand it doesn't work well with the AMD test system and on the other it performed marvelously with the Intel test rig.
"Like an enigma it taunts me with its potential power seemingly only performing when it likes."
Performance of the GEIL DDR433 with a Intel Pentium 4 processor is excellent as you can see. Those benchmarks we showed you are absolutely the highest numbers we have ever seen in our own test labs. Performance with AMD systems was very different though. The highest we could get the GEIL to operate at with a voltage of 3.2V (and the most conservative memory timings on the Epox 8K3A+) was 186MHz FSB - quite a bit lower then the advertised 216 MHz.
For street price of $160 CDN ($115 US) a 256MB module of GEIL PC3500 can be a good value if you have an Intel based system. If your rig is AMD, you might want to look elsewhere for the moment until all the compatibility issues are hammered out. We were not able to get the GEIL PC3500 to work properly at the rated speed on our reference 8K3A+ and we all know how lax the memory timings are at high speeds!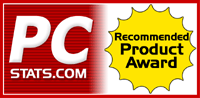 Related Articles:

Here are a few other articles that you might enjoy as well...

2.