Conclusion:
As we can clearly see, Corsair is keeping up with tradition and is selling some wickedly awesome memory here. With a retail price of $175 CDN ($105 US) the memory is a bit more expensive, but then again if you want the best stuff you're certainly going to be paying a premium on it.
The aluminum heat spreaders make the Corsair memory more attractive and they do wonders for peace of mind since we all know that TSOP-II memory can get quite warm at high speeds. Finding the memory for purchase isn't hard, Corsair is a large enough company that they're memory is sold all over the place.
On another note, it seems that Winbond is making some very overclocker friendly DRAM modules and if you can find memory with "BH-6" DRAM you should scoop it up right away! Of the three modules we've tested with that DRAM, all have been able to pass the 200 MHz barrier with most aggressive memory timings quite easily!
There isn't really much you can complain about the Corsair XMS3200 CAS2, it's some excellent memory and performs very well. It is a bit more expensive then most other memory out there, but if you want the best look no further. You'll certainly be happy with this memory!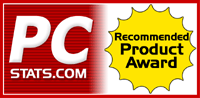 Related Articles:

Here are a few other articles that you might enjoy as well...

2.