Connecting a newly bought LCD display up to an older analog video card used to be a necessity, but now it just seems like a waste of good digital signal processing technology.
The Hitachi CML190SXWB springs to life with perfect picture and display when connected via a DVI cable, and provides almost perfect picture via the Analog cable. The choice is yours, but we highly recommend upgrading to a video card which gives DVI capabilities if you are currently without.
Boasting a roomy screen size of 19" and a resolution of 1280x1024 pixels, it seems like a waste to use anything but the DVI port, but for the late bloomers the 15-pin analog connection is a welcome sight I suppose. The display features a 500:1 contrast ratio, brightness of 250 nits and wide viewing angles of 170 degrees horizontal/vertical.
Overall, I'd have to say we are very satisfied with this latest display from Hitachi. The previous LCD monitor we reviewed from this manufacturer fell below the line of what we believe they are capable of producing, so it was reassuring to see that CML190SXWB set the trend straight once more.
Pixel response times are listed at 25ms (15ms rise time, 10ms fall time) which seems about right. A quick check of the screens performance in Unreal Tournament 2003 (a basic FPS game where ghosting can cause potential game play problems) gave us a good overall impression. Naturally, really hard-core gamers will want to go CRT as colour depth and refresh rates are technically more diverse.
The price of the 19" Hitachi CML190SXWB is $1200USD which is about average for a generously sized LCD display for work, or for home. The Hitachi CML190SXWB has much to offer and would be well worth considering.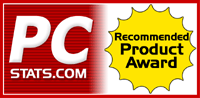 You tell us, do you think this LCD display is as good as we think it is? Come to the forums and let us know!
LCD Display Comparisons
Display
pixel pitch
luminance
contrast
viewing angle
screen size
max resolution
price range

15 Inch

AOC LM-500
0.270 mm
200 cd/m2
150:1
50/50/40/40
15"
1024 x 768
$350
Hitachi CML153XW
0.297 mm
200 cd/m2
300:1
45/45/60/60
15"
1024 x 768
$400
Hitachi CML151XW
0.297 mm
200 cd/m2
350:1
45/55/60/60
15"
1024 x 768
$420
Samsung 150MP
0.297 mm
200 cd/m2
300:1
70/70/60/60
15"
1024 x 768
$650
Samsung 150T
0.297 mm
200 cd/m2
300:1
60/60/55/55
15"
1024 x 768
$600
Samsung 152T
0.297 mm
350 cd/m²
450:1
80/80/75/75
15"
1024 x 768
$700
Samsung 570S
0.297 mm
200 cd/m2
250:1
60/60/55/55
15"
1024 x 768
$500
Samsung 570V
0.297 mm
200 cd/m2
250:1
60/60/55/55
15"
1024 x 768
$400

17 Inch

Viewsonic
0.264 mm
260 cd/m2
450:1
70/70/70/65
17"
1280 x 1024
$700
Cornea MP704
0.264 mm
250 cd/m2
400:1
40/65/65/65
17"
1280 x 1024
$550
Samsung 171P
0.264 mm
250 cd/m2
500:1
85/85/85/85
17"
1280 x 1024
$1000-1200
Samsung 170MP
0.264 mm
170 cd/m2
220:1
80/80/80/80
17"
1280 x 1024
$1000
Samsung 171MP
0.264 mm
240 cd/m2
400:1
80/80/80/80
17"
1280 x 1024
$1250
Samsung 171B
0.264 mm
240 cd/m2
400:1
80/80/80/80
17"
1280 x 1024
$800
Samsung 170T
0.281 mm
220 cd/m2
350:1
80/80/80/80
17"
1280 x 1024
$900

18.1 Inch

Hitachi CML181SXW
0.280 mm
235 cd/m2
350:1
85/85/85/85
18.1"
1280 x 1024
$900
Samsung 181T
0.281 mm
250 cd/m2
450:1
85/85/85/85
18.1"
1280 x 1024
$1100
Samsung 181B
0.281 mm
250 cd/m2
400:1
80/80/80/80
18.1"
1280 x 1024
$1200
Samsung 180T
0.280 mm
220 cd/m2
350:1
80/80/80/80
18.1"
1280 x 1024
$1600
Samsung 800TFT
0.280 mm
170 cd/m2
220:1
80/80/80/80
18.1"
1280 x 1024
$2500

19 Inch

Samsung 191T
0.294 mm
250 cd/m2
500:1
85/85/85/85
19"
1280 x 1024
$1200
Hitachi CML190SXWB
0.294 mm
250 cd/m2
500:1
85/85/85/85
19"
1280 x 1024
$1200

24 Inch

Samsung 240T
0.27 mm
230 cd/m2
450:1
80/80/80/80
24"
1920 x 1200
$4600
lower best
higher best
higher best
up/down/left/right
(USD)