Testing the Samsung SM-348
test system specs:

computer hardware:

processor:
intel pentium 4 1.5 ghz
clock speed:
1.50ghz
motherboard:
epox 4g4a
chipset:
intel i845ge
videocard:

msi ti4200

memory:

256mb pc2700 crucial ddr

hard drive:
ibm 40gb deskstar 7200rpm
heatsink:
stock intel hsf
powersupply:
Enermax 431Watt
Software Setup
WindowsXP
Benchmarks
CD WinBench 99 V1.1
Nero CD Speed
SiSoft Sandra 001
DVD Speed is a DVD-ROM benchmark which can test the most important features of a DVD-ROM drive. For this test we use a pressed DVD-ROM with about 7.0GB of data on it.

Samsung SM348 - DVDSpeed Tests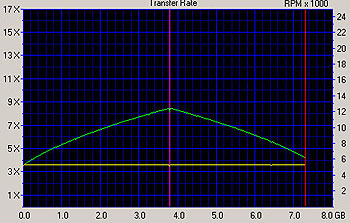 | | | | | | | |
| --- | --- | --- | --- | --- | --- | --- |
| Optical Drive | SM348 | DVD-500M | DVD106 | SD616 | SDM1212 | SM-308 |
| Disk Type | DVD | DVD | DVD | DVD | DVD | DVD |
| Avg Speed: | 6.46x | 5.73x | 5.74x | 4.85x | 4.52x | 1.71x |
| Start Speed: | 3.56x | 3.25x | - | - | - | 1.76x |
| End Speed: | 4.21x | 3.76x | - | - | - | 1.74x |
| Type: | CAV | P-CAV | - | - | - | CLV |
| Random Seek Time: | 96ms | 90ms | 98ms | 81ms | 111ms | 103 |
| 1/3 Seek Time: | 107ms | 103ms | 111ms | 88ms | 116ms | 110 |
| Full Seek Time: | 172ms | 178ms | 187ms | 158ms | 187ms | 346 |
| CPU use: 1X | 1% | 3% | 16% | 20% | 21% | 58% |
The SM348 tops out at just under 9X according to DVD-Speed (we tested with the DVD of Spiderman, there is some variation disc to disc). Average results show a marked improvement over the Samsung SD616, which also operates at 16X read speeds. The average speed of the SM348 came in at 6.46X as opposed to 4.85X for that drive; CPU usage is also the lowest of all the drives we tested.
The e-TestingLabs CD Winbench99 benchmark runs a series of scripted programs from a special CD in the drive and measures the time and data transfer capabilities as a result. Higher numbers mean better performance.
CD-WinBench 99 Benchmark Results
Test Drive
Results
Samsung SM-348 (CDRW-DVD)
1570 kb/s
Samsung SW-240 (CD-RW)
1910 kb/s
Samsung SW-232 (CD-RW)
1460 kb/s
Samsung SW-224 (CD-RW)
1320 kb/s
Samsung SC-152 (CDROM)
1710 kb/s
Pioneer DVD-500M (DVD ROM)
2440 kb/s
Samsung SW-216 (CD-RW)
1280 kb/s
The SM348 comes in about middle of the pack according to CD-Winbench.