Belkin have supper charged the Omniview KVM by adding USB and audio ports in addition to the standard set of PS/2 and video connections. The USB and PS/2 ports share the same purpose - keyboard and mouse control, but one of the caveats of the system is that only one set or the other may be used for keyboard and mouse control. In other words if you use the USB connection on one slaved computers, you cannot also use the PS/2 jacks.
| | | |
| --- | --- | --- |
| Rear of the Omniview KVM | PS/2 cable extensions | Cable for firmware upgrade |
| | | |
The plus to this situation is that if you have a set of legacy computers and only a USB keyboard/mouse on hand then you're still in luck. Plugging that USB keyboard/mouse into the KVM with the help of the two PS/2 extension cables and some USB-to-PS/2 adaptors (which are not included sadly) gives you control over all subsequent legacy computers.
In our tests we used a standard set of PS/2 keyboard an mice to control up to four computers; two were legacy (in other words we used the PS/2 ports) and two were USB (in other words we only had one USB cable connected to the computer). The master control for the Omniview is based on the PS/2 standard so a USB cable cannot be directly plugged into it unless done by the means we have already mentioned.
There is also a spare power port, but since the unit does not ship with a AC adaptor is isn't of much use to most of us. The unit draws power from a host machine's PS/2 keyboard or USB port, so you cannot use it as just a video switch unless at least one computer is hooked up via the USB or PS/2 port.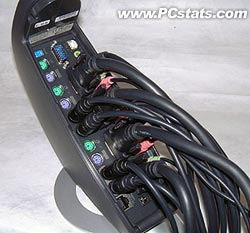 Image quality during our testing of the unit was very good - there was almost no ghosting visible at higher resolutions, and keyboard and mouse controls were very dependable. The unit takes a second or so during each change to resynchronize all three signals, and in that period the only problems we ever noticed were with the mouse. In an instance here and there where we had the USB port controlling both mouse and keyboard the mouse signal didn't kick over. Changing back to another signal, and then back to the computer resolved this glitch, and realistically this only happened once or twice with a few of the computers the Omniview has been tested on.
The Omniview allows users to control switching via a set of four keys on the unit (with lights to indicate which signal is on) or by hot keys from the master keyboard. Pressing Scroll Lock twice very quickly and then the down or up key lets you move through the four connections quickly.
Autoscan can be enabled by keying in Scroll Lock twice fast and "0". The only thing aspect of the Belkin Omniview which I didn't like was the annoying beep that happens each time you switch from one system to another - and there just isn't anyway to turn it off.
Pumping stereo audio from multiple computers through to one set of speakers is a nice feature and audio quality was excellent even at louder volumes. As there are two stereo channels (one for speaker and the other intended for microphone) it should be possible to pump stereo and center/sub channels through the Omniview if you don't need the microphone feature.
There is a lot to consider when selecting a digital KVM for your application, and while the extra features are nice, it really does come down to reliability and image quality. In that respect the Belkin Omniview has won our approval - if need a good 4-port KVM for either USB or PS/2 legacy computers this is the choice to make. Its operation was essentially 99.9% foolproof, and the only complaints we can levy against it concern the annoying noise and lack of friction pad on the base.
Those issues are minor and given the impressive Industrial design shown here, the superb functionality and usefulness factor the Belkin Omniview KVM is a very good choice to make. It's non-standard size would not make it good for server racks, but when it comes to desktops and cable management, this bit of kit is impressive. Excellent product, easy to use, and well designed.