MSI's Metis 266 is certainly sleek looking slim PC barebones that is perfectly built for the office environment. As you could see in our office based benchmarks (SysMark2002 and Winstone 2002) the Metis 266 handles itself quite well.
3D based applications on the other hand are not really comparable to full sized systems you find on the market right now, but that is not much of a surprise as the system was being run with an MX440 videocard. While the Metis266 will not prevent you from plaing the games like UT2003 or QIII occasionally, there are limitations set upon by the types of videocards available in half-height format such as the MX440 we used for testing. The best thing to do is look at what you are currently using a computer for; if you use intensive 3D applications like Autocad, or intensive 3D gaming for example, you'll really want to concentrate on a regular sized desktop system.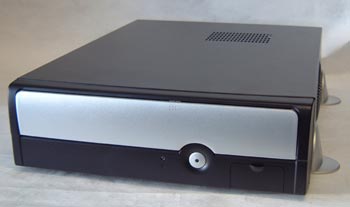 It's nice to see MSI use high quality parts with their Metis 266 system, the Inwin BT553 MicroATX case was very well constructed and looked nice. Inwin did their best to get rid of the sharp edges but because I stuck my finger everywhere, I did end up cutting myself. It's quite easy to work in the case with the CD-ROM, floppy and HDD in the front and out of the way. Build quality is really nice with this system, and it would make a really good computer for someone who doesn't have that much desk space, or place to put a large bulky computer in a dorm room for example.
The MSI MS-6390 KM266 motherboard is perfectly suited for standard office applications, internet, and word processing use. With support for any 200/266 MHz based Athlon processor you know you'll have plenty of CPU power to work late into the night. The two DIMM slots can support up to 2 GB of PC1600/2100 DDR and with 5.1 audio, 10/100 LAN, USB 2.0 and an on board ProSavage8 videocard there isn't much you need to expand.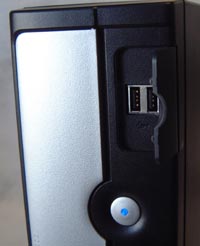 Since this PC is so slim, there isn't much space on the inside of the case to mess around with. Following the instructions from the get go will save you a lot of trouble. For example if the hard drive is not installed in the correct orientation the power wires will not reach and you'll have to find an extension cable. This actually happened when we first started installing components into the case, and it was not until we took the time to read through the instructions more carefully that we found we had installed the HDD incorrectly.
Because of the close proximity each component has to one another, the power supply cables have been engineered for very specific lengths. One small oversight on the inside layout of the case surrounds the side exhaust fan. Wires come out of the power supply directly in front of the fan, which does not have a fan grill. On at least one instance the wires did get caught in the fan and caused it to stop. If you are carefull when you assemble the case this potential problem is easily avoided, but it would be nice if the manufacturer considered adding a small wire fan grill in this instance to "error on the side of caution." The same can be said for the processor heatsink.
If you're looking for a small desktop barebones system that will be used primarily for 2D office or internet applications the MSI Metis 266 SlimPC is perfectly suited; all the main components you need are there, buying the rest allows you to customize the system to your own specific needs and budget right off the bat. With the Metis 266 SlimPC the user has the option of what size hard drive to install, whether to use a DVD-ROM or CDRW, and what speed processor to install. In our tests we used a 52X CDROM, AMD AthlonXP 2700+ (running at 2100+ speeds) processor, 20GB hard drive and 512MB of DDR SDRAM.
Based on similar hardware, you can expect results as we have shown with the use of an extra half-height Geforce4 MX440 videocard. If your computing requirements are fairly intensive, or you want to play around with full sized video cards like the Geforce FX you'll need to choose a different tool for the job. SlimPC's are good for the applications we have mentioned here, and the Metis 266 SlimPC is a very good example of how to go about doing it.
Find out about this and many other reviews by joining the Weekly PCstats.com Newsletter today!
Related Articles:
Here are a few other articles that you might enjoy as well...