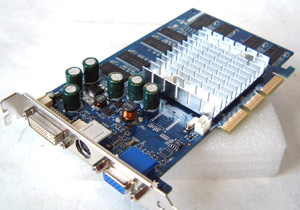 While not a speed demon, the Albatron GeForceFX 5200P does do quite well for a videocard which retails for only $155 CDN ($95 US). Often it was neck and neck with the MSI GeForce4 MX440-8X in terms of performance but best of all, since it's DirectX 9 compatible it's extremely future ready!

Of course with that low price point, the Albatron GeForceFX 5200P does not come with much; a driver CD, WinDVD, users manual and two video cables. Albatron decided against bundling games which is a good move since there are no DirectX 9 titles on the market at the moment and this woul ave just added to the price.

Our particular sample was not that great an overclocker but then again overclocking is luck of the draw. Ideally for the budget/casual gamer, the Albatron GeForceFX 5200P is pretty much powerful enough to handle all current games at 1024x768. AA is just about out of the question with the videocard as nvidia's NV34 core does not have the power to sustain playable framerates. However, with the AF fixed on the new FX based videocards (GeForce4's took a huge performance loss with AF enabled), it can be used without much performance penalty. Image quality while not as good as the Radeon 9700 Pro, was still quite nice.

If you're in the market for a budget videocard, and are not a hard core gamer, the Albatron GeForceFX 5200P is a good choice, it's more future ready then both ATi's Radeon 9000 Pro and nVIDIA's own GeForce4 MX line of cards. The passive heatsink also makes it entirely silent which is a bonus.

Find out about this and many other reviews by joining the Weekly PCstats.com Newsletter today!

Related Articles

Here are a few other articles that you might enjoy as well...

2.