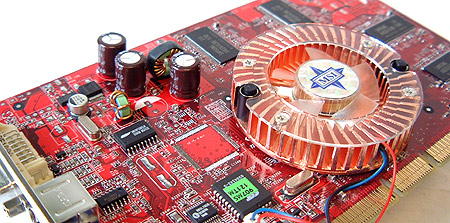 Well, as the benchmarks suggest you're certainly not going to be buying the MSI FX5200-TDR128 if you're a 3DMarker or benchmark freak. On the other hand if you're using an older videocard like a TNT2 class or are a causal gamer, the MSI FX5200-TDR128 is certainly a worthy option.

With a retail price of $175 CDN ($115 US) the MSI FX5200-TDR128 sits in the middle of the pack in terms of price point but it offers probably the best software package as well as includes a good set of hardware goodies.

The card comes with three full version games (Ghost Recon, Morrowind, Duke Nukem) that are relatively new as well as a seven game demo CD. MSI also includes VirtualDrive and RestoreIT! software as well as WinDVD. There are also three misc MSI CD's which include drivers and other software.

In terms of hardware, MSI includes a DVI to analog converter which is handy for those who want to setup dual display, a S-Video to S-Video cable and a video out break out box. MSI also throws in a remote control for the videocard although we didn't find it very useful, it is very cool.

The T.O.P. Tech Cooler II is extremely quiet and you're certainly not going to notice it even when it's on its loudest setting (Enhanced 3D mode) if you install the card into an enclosed case. As you can see from our benchmark results, the GeForceFX 5200 is extremely memory bandwidth limited and luckily for us, our particular card was quite overclocker friendly.

If you've got a fairly new videocard (GeForce3 or above) you're going to want to skip any GeForceFX 5200 class videocard and get something a bit better. If you've got something slower and only game every now and then, the MSI FX5200-TDR128 offers a pretty decent value. It's not the fastest, but it's relatively inexpensive and comes with a whole lot of extra stuff! =)

Find out about this and many other reviews by joining the Weekly PCstats.com Newsletter today!

Related Articles

Here are a few other articles that you might enjoy as well...

2.