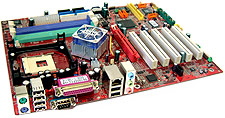 The MSI 865PE Neo2-FIS2R is one fast motherboard!
As the benchmarks have shown the 865PE Neo2-FIS2R performs just as well as the other i865PE based motherboards we have tested thus far.
Despite it's relatively high retail price of $225 CDN ($165 US) , the 865PE Neo2-FIS2R is still quite a steal considering all the integrated components. Let's see, the motherboard has Serial ATA/Serial ATA RAID, IEEE 1394, Intel Gigabit CSA NIC and 6-channel audio. If you feel the need to expand the motherboard the five PCI slots should be plenty. MSI also includes four Serial ATA cables, two molex Y Serial ATA power connector splitters and a rounded IDE cable for good measure. They also include all the necessary brackets to take advantage of all the extra USB, IEEE 1394 and audio brackets.
Lastly, the box includes a six software CD pack which actually contains some useful utilities. Imagine that? ;-)
If you're an overclocker, the MSI 865PE Neo2-FIS2R has quite a wild side to it. With maximum voltages of 2.3V for the processor, 3.3V for the memory and 2.2V for the AGP, you know MSI means business. You'd better have sufficient cooling if you plan to take advantage of those higher voltages though.
We do have a bit of a problem with MSI's Dynamic Overclocking feature that is incorporated into the motherboard via the CoreCell chip. Only with the latest BIOS flash is the option available to turn off and we're not sure if it's a good idea for MSI to overclock any given system without informing the end user. They should also consider renaming all the Dynamic Overclocking settings as military ranks are not very descriptive of what is actually going on.
In the grand scheme of things we are generally very impressed with what the MSI 865PE Neo2-FIS2R has to offer users, and I think it is safe to say we would recommend this motherboard to mainstream users.
Find out about this and many other reviews by joining the Weekly PCstats.com Newsletter today!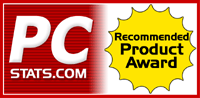 Related Articles:

Here are a few other articles that you might enjoy as well...

2.