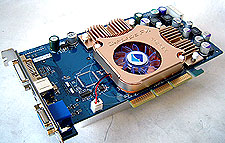 In the last year Albatron have come a long way. From their start as a relatively unknown company to now being one of the major players in the computer industry, the ride has sure been wild. As a mainstream videocard the Albatron GeForceFX 5600P Turbo does very well for itself.

Already one of the fastest stock GeForceFX 5600's on the market, Albatron equip their card with the standard large copper GPU HSF as well as aluminum RAMsinks on the 3.3ns Samsung BGA memory. You can guess what this card is intended to do, and our particular sample was able to hit an amazing 369 MHz core speed and 718 MHz memory once overclocked.

For those of you who like to output your computer to the TV, the card supports S-Video out and comes with all the necessary cables. There's also a DVI connector, but Albatron seems to have forgotten to include the DVI to analog converter for those dual display people out there.

The software bundle was a bit sparse with only WinDVD, Motocross Mania and Serious Sam. I would have liked to have seen more, and newer, applications included.

The users manual is detailed enough that newbie's should have no problems installing this videocard into their system. Unfortunately, the card is not available for retail sale yet so we're not sure how much it will be priced for. Typically, Albatron's videocards carry a slight price premium.

If you have an older GeForce3 or Radeon 8500 class videocard then the Albatron GeForceFX 5600P Turbo would be a good upgrade. If you're still gaming away on a GeForce4 Ti class card perhaps it's best to wait until Nvidia come out with a GPU that offers a dramatic performance improvement.

Related Articles

Here are a few other articles that you might enjoy as well...

2.