This article assumes a few elements are already in place: two or more computers with Windows operating systems (anything from windows 98 to XP will do).
1. An Ethernet-based network adaptor installed in each computer. If you are not sure if you have one or not, see the picture below and check the back of your computers for a similar interface. If you have purchased them separately, see the section below entitled Installing Network Card Drivers for details.
Also, if you are not planning to use a hub or switch device to connect your computers, you will need two network cards in one of the computer systems.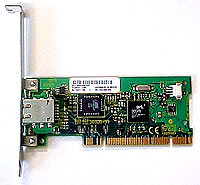 2. Appropriate networking cables: Since we are assuming you have Ethernet cards, you will need either Straight-through or crossover Cat 5 Ethernet cable. Any computer store will have them available in a variety of lengths.
Straight through is they type used with a hub or router, while crossover is used for connecting two computers together directly. If you have the necessary equipment (RJ45 crimpers, cable tester) to make your own cables, this PCstats guide will explain the process for you. At the very least, our guide offers a useful footnote on the differences between Straight-through and Crossover Cat 5 Ethernet cables.
3. An active connection to the Internet. Cable, DSL or dialup.
4. An Ethernet hub/switch is not required (unless you have more than two computers), but is recommended, since it will enable you to expand your new home network beyond two computers in the future.
5. A Cable/DSL router is also recommended, and is probably the simplest way to set go in order to set up a home network. These devices act as switches and enable you to share an Internet connection simply, without needing to leave one of your computers on constantly in order for the others to access the Internet through it. They also provide basic, but effective firewall protection for your network.