First order of business is to install the wireless network adaptors into each computer. For desktop computers using a PCI network adaptor, you will need to power down the system, open up the case and insert the adaptor into a free PCI slot (the white slots running in a row down the back of the computer motherboard). Screw the card in, then close up the computer and restart, providing the driver disk when prompted. For a USB wireless adaptor, simply plug it into a free USB port while the computer is running, and install drivers when prompted.
For laptop systems, you will either have a PCMCIA card adaptor (recommended) or a USB adaptor. Both can be plugged into the computer while it is running, though with the PCMCIA card adaptor it is a good idea to power off before you plug it in. Install the drivers as required.
Now choose a location for your router. If you have decided that you will use wired connections for any of your desktop systems, obviously you want it close to them. The router will need to be wired to your DSL or cable modem if you are planning to share internet through it.
If you have multiple floors in your home or office, it is a good idea to put the router on the middle floor to ensure maximum connectivity. You can always change the location later once you see the kind of signals you are getting, so don't worry about it for too long. Plug the router in.
Verify that the 'WLAN' LED is lit up. To test connectivity, open a web-browser on one of your wireless computers and enter the default IP address of your router. If you are not sure what this is, consult your manual, but typically it is 192.168.2.1. If successful you should wind up at the router's configuration interface screen.
At this point, there are a number of things you may wish to configure. The only thing that is essential at the moment is if you have a DSL Internet connection, you will wish to enter your username and password for the connection into the router so it can dial the connection for you.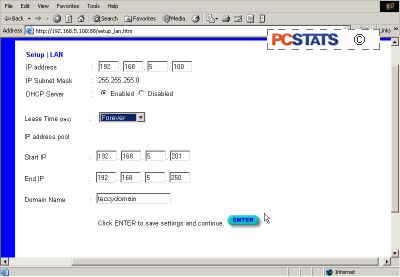 By default, your router will have a 'pool' of IP addresses which it will distribute to any clients who attempt to connect wirelessly. This is called the DHCP server.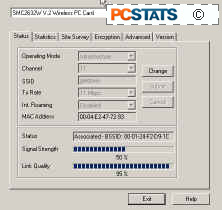 You can disable this feature by turning off the 'DHCP server' option, but if you do so, you will have to manually assign each wireless client an IP address in the same network as the router by browsing to 'My Network places/(your wireless adaptor)/TCP-IP settings' and entering an address in the proper range.
For example, if your router's IP address is 192.168.1.1, you will need to give your client computers IP addresses in the range of 192.168.1.2-254 to connect. We will discuss some more efficient forms of securing your connection in a second.
Your wireless network adaptors in each computer should have a status program (see the picture to the right of an SMC PC-card adaptor) that will give you basic information about your network and the signal strength available.
If the signal is poor you will need to reposition your router. Walls, people, and metal can absorb much of the wireless signal, so proper positioning of the router is important. Another important point to consider is securing your wireless network from just anyone accessing it.