Beginners Guides: Installing Windows XP
---
Getting started with a new operating system has never been this easy. - Version 1.2.0

Installing Microsoft operating systems has never been a particularly trying task, assuming that your hardware is working correctly. Keeping Microsoft operating systems from acquiring an assortment of viruses, useless icons, spyware and garbage programs which eventually clog up your beloved PC like bright green pond scum is a whole other issue. Thankfully, that's not the focus of this article.

This article is intended to cover simply the various tasks involved in installing Microsoft Windows XP Home or Professional on a PC. To achieve this, we take a few things for granted.

1. You have a fully assembled PC with no known hardware issues.
2. You have a licensed copy of Windows XP Home or Professional on CD.
3. You have a basic understanding of computer terminology.

While both WinXP Home and Professional are based on the same core operating system, which in turn is based on Windows 2000, there are substantial differences in their individual capabilities.

WindowsXP Pro is a direct successor to Windows 2000 Professional, with all the capabilities of the former, a business-oriented client OS. WindowsXP Home, at least in function, is more like a spiritual successor to windows 95/98/Me, a decidedly non-business-centric OS.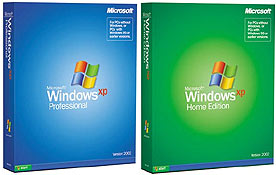 The major differences:
Like Windows 9x/Me machines, Windows XP Home computers cannot become members of a Windows Domain. This severely limits XP Home's usefulness in professional environments, at least larger ones, since it cannot be easily administrated centrally. It's completely irrelevant to the average home user though.
WinXP Home lacks the Remote desktop feature found in WinXP Pro, which enables a single user to remotely connect to the WinXP Pro machine across a network or the Internet using client software that can be installed on just about any Operating system. WinXP Home supports only a single processor, compared to WinXP Pro's support for up to two.
WinXP Home does not have the ability to encrypt files. WinXP Home does not have the capability to restrict access to specific files, programs and resources on a per-user basis. An administrator of an WinXP Professional computer can specify exactly which files and folders each user has access to, a level of control which is not possible in WinXP home edition. WinXP Home does not include Microsoft's Internet Information Server (IIS) as Professional does, and thus cannot be used to publish web pages without a third party program.
In terms of upgrading from previous versions of Windows, only 98, 98SE and ME users can upgrade directly to WinXP Home, while users of Windows 98, 98SE, ME, NT and 2000 Professional can upgrade to WinXP Pro.
Which flavour of WindowsXP you choose comes down to where you intend to use it. WindowsXP Home Edition costs less than the Professional Version, and for average users, it should be just fine. If you are familiar with Windows2000 you'll want to stick to the WindowsXP Professional version.