Client filters require the IP address of a computer or computers in your internal network, and the ports which will be blocked, with the protocol type (TCP or UDP).
Hopefully, the whole concept of firewalls and Internet security is a little clearer now. Antivirus programs are essential, and you really should have a home firewall to properly protect your computer or network.
Again, keep in mind that for typical use, a software or hardware firewall should require little or no configuration, so don't be intimidated. The configuration itself revolves around a very limited set of changes, as I hope this article has shown. Protect yourself.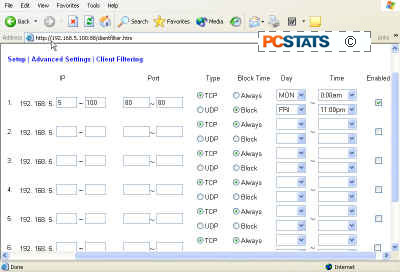 Here is a list of well-known port numbers which you may find useful in configuring your firewall.
| Service | Port Number |
| --- | --- |
| FTP | 21TCP |
| Telnet | 23 TCP |
| SMTP | 25 TCP |
| HTTP | 80 TCP |
| POP3 | 110 TCP |
| HTTPS (secure) | 443 TCP |
| IRC | 194 TCP |
| ICQ | 5190 TCP, (note: ICQ by default will use this port to connect, and any available port above 1024 to listen for new connections. This is kind of insecure, so I would recommend going to the ICQ site and reading their firewall configuration info |
| AOL messenger | 5190, 4099 TCP (also will self configure to available ports) |
| Yahoo IM | (self configures) |
| MSN messenger | 6891-6900 TCP for file transfer, 6901 TCP/UDP for voice (otherwise self configures messaging) |
| Kazaa | 1214 TCP (can be reconfigured within Kazaa) |
| Games** | For various multiplayer games, check the websites for specifics. |
If you have any comments or questions, please post them in the PCSTATS Forums. Find out about this and many other reviews by joining the Weekly PCSTATS Newsletter today! Catch all of PCSTATS latest hardware reviews right here.