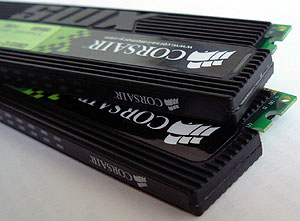 Gone are the plain-Jane flat aluminum heat spreaders of old, and in their place are a new style of cast aluminum RAMsinks. The cast aluminum RAMsinks that accompany the CMX512-4000Pro modules are taller, ribbed for larger surface area, and thermally bonded to the DRAMs below.
Each stick of memory is consequently a bit heavier than the older heat spreader style, but still much lighter than a copper-heat spreader clad stick of DDR.
Corsair thermally bond the RAMsinks to the DRAMs by way of an adhesive thermal paste material. When the DIMMs are turned on their edge it looks as though white thermal paste was used to interface between the chips and the metal. The difference is of course that the thermal paste as set, and now firmly bonds the two materials together so there is no concern of white material leaking down into the DIMM slot with time.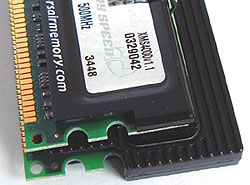 The CMX512-4000 DDR module in the foreground is dwarfed by the new Corsair CMS512-4000Pro module in the back with its large cast aluminum RAMsink.
While this method reportedly improves thermal efficiency over frag tape, it also means we cannot remove the RAMsinks to have a peek at the markings on the DRAMs.
The ribbed RAMsinks get nice and warm with use, and on a side note, pointing a fan in their direction did not affect the overclockability of the sticks in any way.

As we mentioned earlier, the LED lights on the top edge of each stick aren't just there to hypnotize us with flashes of light. The 18 LED's indicate which particular DRAM chips are being accessed. As you can see by watching this short 9-second AVI video clip (1.07MB) of the CMX512-4000Pro memory in action, the the LED's really do seem to act along the lines of a tachometer.
We didn't attempt to remove the RAMsinks, so we're not positive what type of DRAMs are used on these modules, however, I think it's safe to assume that the CMX512-4000Pro modules use the same Hynix HY5DU56822BT-D43 DRAM as the regular CMX1024-4000 modules do.
When it comes to DDR these days, we've been noticing that modules are being targeted towards either high bandwidth or low latencies, but not necessarily both.
High speed DDR like these 500MHz XMS4000 modules are not built for AMD rigs. Yes, I know there are AMD users who can run their FSB's in excess of 250 MHz, but the performance hit due to the lax timings will negate much of the benefit of running at a higher FSB. On the Intel side of the fence things are a bit different; high bandwidth has always been more important to the processor than latency, so the emphasis is squarely on memory capable of running at high speeds (500MHz in this case).
With that said let's see how these babies overclocked in both the AMD and Intel world!