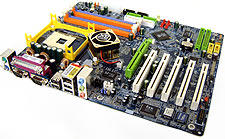 While it's a bit early to declare the SiS 655TX the new P4 chipset performance leader, one thing is certain, consumers now have a real alternative to Intel's high priced i875P chipsets. You no longer have to pay "Intel dollars" to get top performance as the SiS 655TX based Gigabyte GA-8S655TX Ultra has shown us. The board was not the best overclocker but it was not built for that.
We're not sure how much the GA-8S655TX Ultra will retail for but we do expect it to be competitive as Gigabyte motherboards usually are. The board is pretty well equipped with 5.1 audio, Gigabit LAN, IDE RAID and dual BIOS's. If you feel you need room for more, the five PCI slots should give you ample expansion options. It's not a hardware feature but we're always happy to see Gigabyte bundle Norton Internet Security 2003. Goes to show you that they're trying to make your computer experience as easy as possible.
The layout of the motherboard is very good, the ports from IDE to power, USB and even IEEE 1394 are in their most ideal locations near the edge of the motherboard. This helps keep cables out of the way of the other system devices and helps with case airflow. Novice users do not have to worry about installing the motherboard as everything is well labelled and clear. If you do have problems Gigabyte's detailed users manuals will be able to guide you.
We were pleased with the older SiS' 655FX performance but I guess it wasn't up to SiS' standards. With an improved memory controller, the SiS 655TX has the ability to pull the performance crown away from Intel's i875P. Complete Prescott compatibility is another nice feature. =)
It looks like SiS is starting to gain momentum and their reputation for delivering the goods can only get better if they continue to release chipsets of the same calibre as the 655TX. With a good manufacturing partner in Gigabyte, Intel may have to start worrying soon!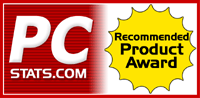 Find out about this and many other reviews by joining the Weekly PCstats.com Newsletter today!

Related Articles

Here are a few other articles that you might enjoy as well...

2.